JDN Cream Of Rice (1.2kg)
$29.95
Description
JDN Cream Of Rice
Are you looking for a fast and delicious snack that is super simple to make? We've got just the thing with JDN Cream Of Rice. Unlike other creams of rice on the market, JDN uses rice flour, which offers a much more thorough mixing ability, providing a smooth snack that will help keep you fuller for longer. This complex carbohydrate supplement is nutritious and delivers you a hearty meal full of carbs. This carb-loaded supp will help you grow and achieve your gains.
JDN has carefully picked three flavours that you will love. Includes an unflavoured option to add your favourite whey or plant protein to the mix for an added boost of muscle-building deliciousness. Every bowl of goodness delivers a sustained energy supply to fuel your workouts. With 30 grams of carbohydrates per serving, you'll fuel your muscles with the proper nutrients.
With each serving of JDN Cream of Rice you're treating yourself to:
Delicious and nutritious meal.
Hearty goodness full of carbs.
Fuel for your body to smash your workouts.
Sustained energy supply.
Cream of Rice is packed full of complex carbs which are important for your body and contributes to energy output. Rice flour has a medium GI rating and is a fantastic source of complex carbohydrates that can help you hit your macro goals. JDN Cream of Rice can also help to replenish Glycogen levels which is an energy source the body uses that can also help muscles to appear fuller.
**These statements have not been evaluated by the Therapeutic Goods Administration. This product is not intended to diagnose, treat, cure or prevent any disease. Please consult a qualified professional before undertaking any health, fitness or dietary program.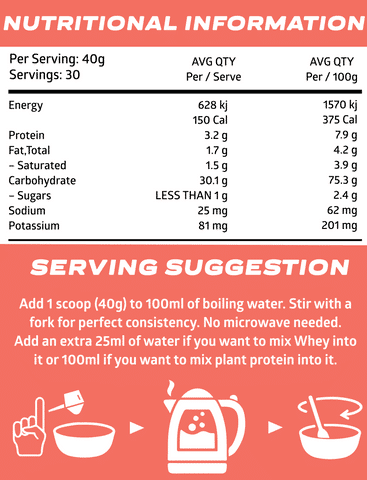 Directions:
Add 1 scoop (40g) to 100ml of boiling water- no microwave needed.
Stir with a fork for perfect consistency.
If adding a scoop of Whey Protein add an additional 25ml of boiling water.
If adding a scoop of Plant Protein add an additional 100ml of boiling water.
Additional information
| | |
| --- | --- |
| Flavour | Choc Chip, Unflavoured, Vanilla |