JDN INCINERATE (270g)
$63.95
Description
JDN Incinerate
JDN Incinerate is the new kid on the block. Incinerate has over 30 active ingredients. This means there is over 30 biologically active ingredients that may stimulate your fat cells and switching that big old thing in your head into "get S#IT done mode". Not only does this product have so many ingredients it would rival Aunt Betty's shopping list, it tastes bloody amazing!!!
Key Ingredients
GBBGO pushes the boundaries of innovation. Lean GBB is designed to help elevate the body's natural levels of L-Carnitine which not only helps you to burn fat but also helps prevent fatty build up.
Halostachine is a less common yet powerful stimulant that has seen much fanfare over the last few years. Halostachine is an alkaloid and has a remarkably similar structure to Ephedrine. It is also a metabolite of phenylethylamine (PEA) a compound found in cocoa beans known for its "feel-good effects". Halostachine acts as a beta-adrenergic receptor agonist similar to that of Ephedrine and but with a tone down in potency and is a much safer compound.
Key Benefits
Incredible burst of energy 10 minutes after consuming which will have you ready to kick ass!
Long lasting energy to endure those gruelling leg or back sessions.
Enhanced focus to help stick to the plan even after a long day at work
Incredible tasting product even with all the active ingredients
**These statements have not been evaluated by the Therapeutic Goods Administration. This product is not intended to diagnose, treat, cure or prevent any disease. Please consult a qualified professional before undertaking any health, fitness or dietary program.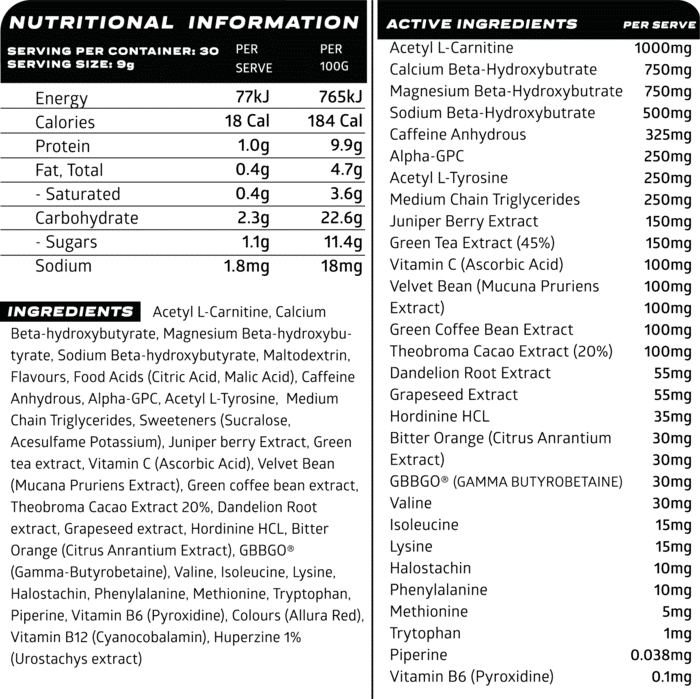 Directions of Use:
Consume 1 serve 15-20 minutes before training or first thing in the morning for an energy boost.
Additional information
| | |
| --- | --- |
| Flavour | Killa Cola, Pineapple Mango, Raspberry Lemonade |