JDN THERMOMELT (300g)
$69.95
Description
JDN Thermomelt
JDN Thermomelt is a powerful Fat Burning Powder which provides a range of Benefits when taken 15 min before exercise including :
Gives you an uplifting sense of wellbeing (great way to start the day!)
Increases your energy and improves your mood
Reduces cravings and hunger
Increases thermogenesis
Helps the body burn more calories (and body fat)
Clinically dosed ingredients (backed by science)
Consumed in the morning or before training, Thermomelt is an extremely versatile thermogenic formula designed to assist with fat loss (by boosting your metabolism), reduce cravings and improve your mood. We like to call this our 'Feel Good Formula' – it's an awesome energy booster, without any nasty crash.
Thermomelt contains Green Tea and Grape Seed Extract – which are both antioxidants and anti-inflammatories – which are essential for recovery and fat loss during training.
Ready to feel leaner, more energized and focused? Give Thermomelt a shot and see why it's a customer favourite!
**These statements have not been evaluated by the Therapeutic Goods Administration. This product is not intended to diagnose, treat, cure or prevent any disease. Please consult a qualified professional before undertaking any health, fitness or dietary program.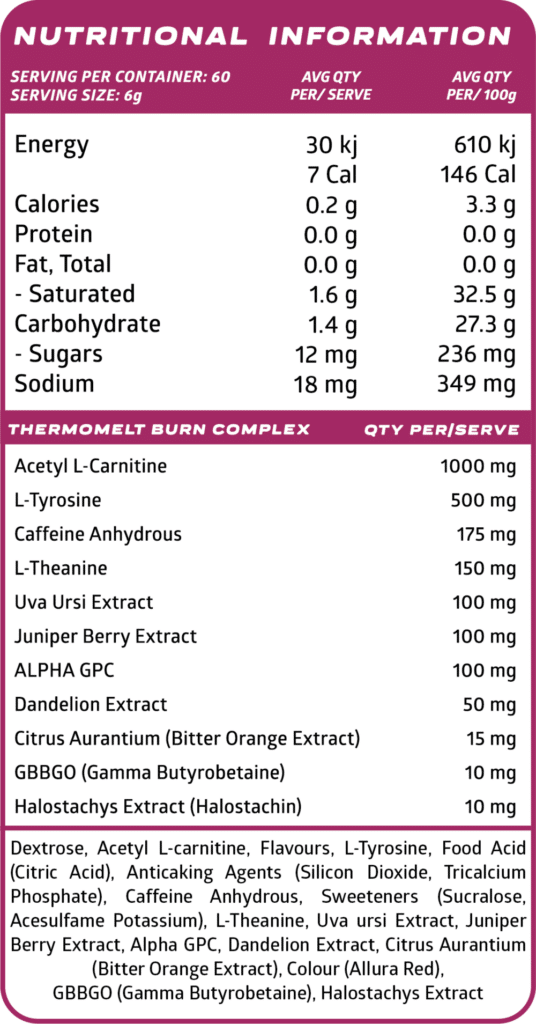 Directions:
Mix 1 scoop of JDN Thermomelt with 250-400ml of cold water and consume 30 minutes prior to exercise for the best results
Do not consume within a few hours of going to sleep
Additional information
| | |
| --- | --- |
| Flavour | Grape Explosion, Pine Lime, Raspberry |