JYM SUPPLEMENT SCIENCE PRO JYM PROTEIN BLEND (907g)
$64.95
Description
Jym Supplement Science Pro Jym Protein Blend
Each scoop of Jym Supplement Science Pro Jym Protein Blend delivers 24 grams of pure, quality protein. It's not "spiked" with single amino acids to artificially increase the protein content or made with cheap and inferior whey protein concentrate or caseinates. To make Pro JYM, We selected only the highest-quality whey protein isolate, micellar casein, milk protein isolate and egg white protein (egg albumen).
The 24 grams of protein in each scoop of Pro JYM contain the following:
Whey protein isolate: 7.5 g
Micellar casein: 7 g
Egg albumen: 2.5g
Milk protein isolate: 7 g (5.5 g casein, 1.5 g whey)
Since milk protein isolate is 20 per cent whey protein and 80 per cent micellar casein, the 24 grams of protein in Pro JYM are really broken down into three main categories:
Whey protein: 9 grams (40%)
Micellar casein: 12.5 grams (50%)
Egg white protein: 2.5 grams (10%)
A Blend Is Best
While a high-quality protein powder should be at the top of everyone's supplement shopping list, don't make the common mistake of buying a pure whey protein powder right off the bat. Yes, whey protein is a critical staple for muscle growth, but to truly maximize growth, you need more than just whey. You need a precise blend of performance proteins.
Whey is a very fast-digesting protein. The rapid rate of digestion is one of whey's benefits, but on its own, this quality can actually be a downfall. Because of whey digests so fast, it quickly boosts muscle protein synthesis (MPS). However, it only boosts MPS for a short amount of time.
Research now shows that when you add medium-digesting and slow-digesting proteins to whey, muscle protein synthesis remains elevated for longer than when using whey alone. Since muscle protein synthesis leads to muscle growth, elevating muscle protein synthesis for longer can have a significant impact on your overall gains.
In fact, research confirms that people who add slow-digesting casein protein to a whey protein shake around their workouts enjoy greater muscle growth over time than people taking whey alone. This research is the very reason I recommend taking a blend of fast-digesting whey protein, medium-digesting egg protein and slow-digesting
What it is: The perfect blend of three of the most effective types of proteins for building muscle: whey, micellar casein and egg protein. These three types of protein are absorbed in the body at varying rates of speed – whey extremely fast, casein very slowly, and egg at a "medium" pace. This is exactly how you want your protein to act both before and after workouts to ensure that the muscles get an immediate supply of amino acids (the building blocks of protein) as well as a steady trickle of them in the hours following. Research now suggests that when you add medium-digesting and slow-digesting proteins to fast-digesting whey, muscle protein synthesis remains elevated for longer than when using whey alone. And muscle protein retention is higher, as well. That means that more protein is being built in the muscle. That is what may help lead to long-term gains in muscle growth and strength.

What sets it apart: Aside from being a protein blend in a crowded market of sometimes under performing 100% whey protein powders, Jym Supplement Science Pro Jym Protein Blend is also a non-proprietary blend. A proprietary blend is any supplement that doesn't list the precise amount of every single active ingredient it contains. This isn't just prevalent with pre-workouts and fat-burners – a lot of protein powders on the market are proprietary blends because they don't tell you the exact amounts of the proteins in the formula. Pro JYM, on the other hand, lists the exact amounts on the front of the container of all three types of proteins in their four distinct forms: whey protein isolate (7.5 grams), micellar casein (7 grams), egg albumen (2.5 grams) and milk protein isolate (7 grams – 5.5 grams casein, 1.5 grams whey). Nitrogen spiking (aka "amino spiking" or "protein spiking") is an unscrupulous technique where some supplement companies put in less protein than what's listed on the label as a means of slashing costs and increasing their protein margins – at the user's expense. Getting a "spiked" protein means paying for, say, 24 grams of protein but getting only 18 grams of actual whole proteins. With Pro JYM, you get all 24 grams, guaranteed. Pro JYM is not and never will be spiked with cheap fillers.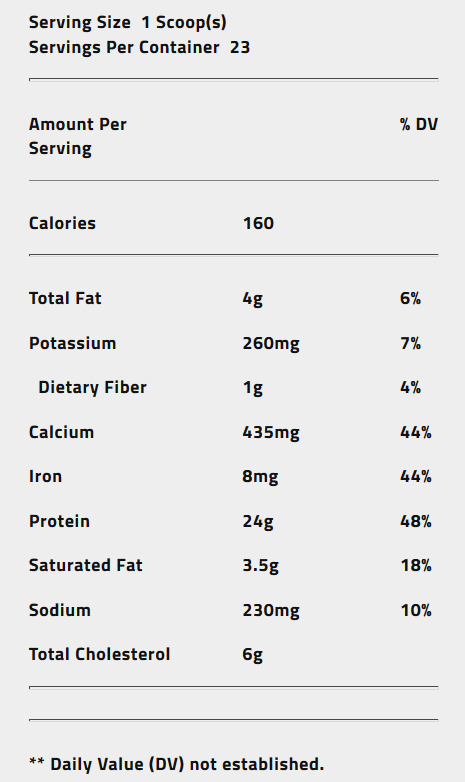 Other Ingredients:
Protein Blend (Whey Protein Isolate, Micellar Casein, Milk Protein Isolate, Egg Protein), Coconut-Based Creamer (Coconut Oil, Maltodextrin, Food Starch, Mono-and Diglycerides, Tricalcium Phosphate), Food Starch, Mono- and Diglycerides, Cocoa processed with Alkali, Gum Acacia, Sea Salt, Peanut Flour, Natural and Artificial Flavors, Cellulose Gum, Silicon Dioxide, Sunflower Lecithin, Sucralose, Acesulfame Potassium, Xanthan Gum
Contains: MILK, EGG AND PEANUT. Produced on shared equipment that also processes products that contains SOY, TREE NUT
Additional information
| | |
| --- | --- |
| Flavour | Chocolate Mousse, Rocky Road, Tahitian Vanilla Bean |