Killer Labz Turkesterone (60 Capsules)
$88.95
Description
Killer Labz Turkesterone
Killer Labz Turkesterone contains the ingredient that everyone in the supp community has been talking about and waiting to arrive. Customer feedback has been all but positive with users reporting substantial gains with no side effects when recommend doses have been followed.
What is Turkesterone?
Ecdysteroids are a class of compounds (polyhydroxylated ketosteroids, with various tails) that are structurally similar to androgens. Ecdysteroid is a category, and popular ecdysteroids include ecdysone, ecdysteron', turkesterone and 20-hydroxyecdysone. These four are the most studied, but each ecdysteroid shares the same general properties although varies in potency and effects slightly. Turkesterone appears to be the most anabolic.
Does Turkesterone Work?
It acts as a potent Estrogen receptor B agonist. It appears to provide a compounding level of anabolic activity via a totally different mechanism than normal AAS, resulting in an additive effect.
Anyone looking to boost their ability to build and repair muscle without any androgenic side effects is going to love this product. Not only is this a promising compound to bridge with in between cycles, it can also be stacked with during a blast and it will not suppress natural Testosterone production at all. This is a great benefit to natural athletes as they can introduce it to their regimens without the consequence of traditional anabolics.
Turkesterone Ingredients
Ajuga Turkestanica Extract (500mg) — contains a powerful phytosteroid like compound called Turkesterone. Turkesterone, like other ecdysteroids, may help to increase protein synthesis, nitrogen retention, limit protein breakdown and help improve recovery. Of all Ecdysteroids known, Turkesterone seems to have the strongest anabolic and adaptogenic effects! Our product uses a ajuga turkestanica extract standardizing for 10% Turkesterone, yielding a massive 50mg Turkesterone per capsule!
Decasorb Technology (30mg) — a 2 stage absorption enhancing complex used to increase absorption and bioavailability of compounds that are normally poorly absorbed. Decasorb Tech opens spaces in bicellular and tricellular tight junctions, increasing paracellular permeability, thus allowing for enhanced intestinal permeation. It simultaneously inhibits P-glycoprotein and CYP3A4 enzymes thereby increasing bioavailability of co-administered compounds.
Highlights
Improves Size and Strength
Increases Protein Synthesis
Improves Recovery
Increases Muscular Endurance
Prevents Muscle Breakdown
**These statements have not been evaluated by the Therapeutic Goods Administration. This product is not intended to diagnose, treat, cure or prevent any disease. Please consult a qualified professional before undertaking any health, fitness or dietary program.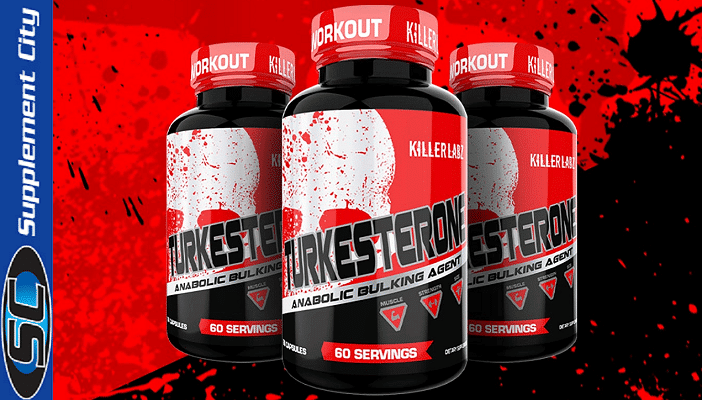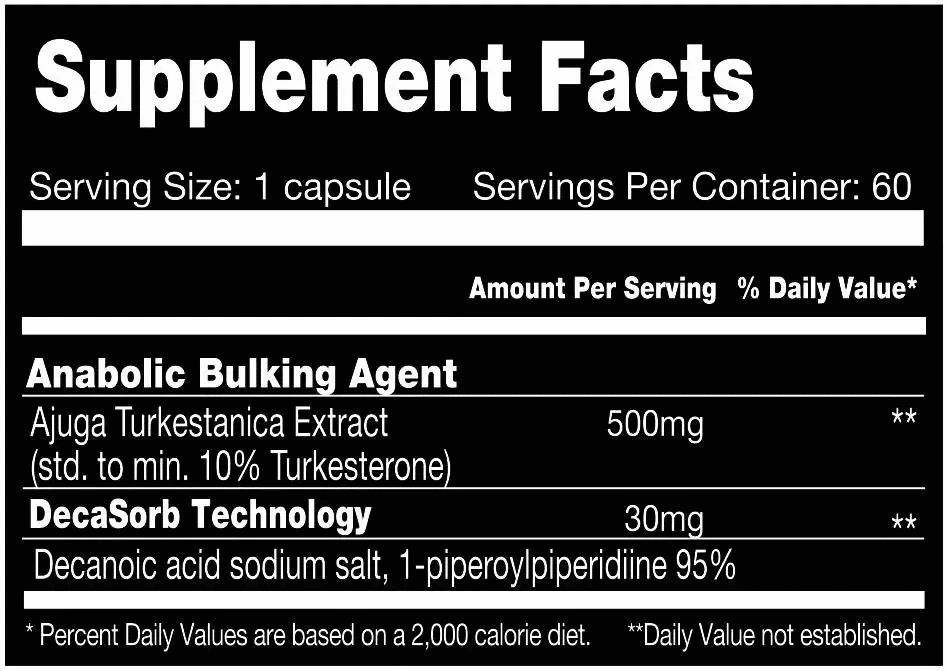 Directions of Use: 
Take 1 capsule with food upon waking with at least 8oz water & 1 capsule 30 minutes prior to training or before bed.
Turkesterone is said to not affect natural testosterone production however if you are experiencing any negative side effects whatsoever, please seek advice from a healthcare professional.
WARNING: CONSULT WITH A PHYSICIAN PRIOR TO USE IF YOU HAVE A MEDICAL CONDITION. DON'T USE IF PREGNANT OR LACTATING. KEEP OUT OF REACH OF CHILDREN. KEEP CONTAINER TIGHTLY CLOSED IN A COOL, DRY AND DARK PLACE.
THESE STATEMENTS HAVE NOT BEEN EVALUATED BY THE FOOD AND DRUG ADMINISTRATION. THIS PRODUCT IS NOT INTENDED TO DIAGNOSE, TREAT, CURE, OR PREVENT ANY DISEASE