LIFE EXTENSION OPTIMIZED ASHWAGANDHA EXTRACT (60 Vegertarian Capsules)
$29.95
Description
Life Extension Optimized Ashwagandha Extract
Life Extension Optimized Ashwagandha Extract Enhances Mental Energy and Concentration. Scientists have discovered that the Indian herb ashwagandha (Withania somnifera) counters some of the oxidative damage generated by nervous tension. Ashwagandha has been the subject of animal studies and is believed to confer improvements in well-being and a healthy outlook in humans.
In a large clinical trial, ashwagandha reduced levels of the hormone cortisol by up to 26% while maintaining already normal blood sugar levels and lipid profiles. Subjects who took the standardized ashwagandha extract reported improvements in energy, sleep and well-being, as well as diminished fatigue. Additional research suggests that ashwagandha confers neuroprotection by supporting the regeneration of axons and dendrites, nerve cell components that support brain and nervous system function.
The suggested daily dose provides 250 mg of standardized, patented, non-stimulating Sensoril Ashwagandha Extract.
Enhances Mental Energy and Concentration
**These statements have not been evaluated by the Therapeutic Goods Administration. This product is not intended to diagnose, treat, cure or prevent any disease. Please consult a qualified professional before undertaking any health, fitness or dietary program.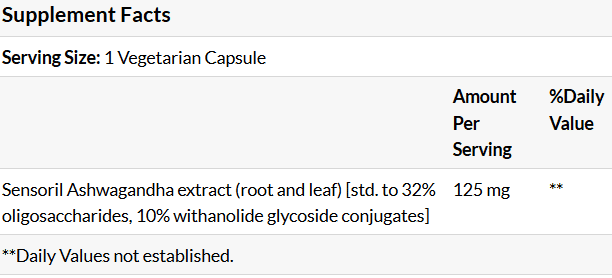 Other Ingredients
Rice, flour, vegetable cellulose (capsule), maltodextrin, vegetable stearate, silica. Non-GMO.
Suggested Use
Read the entire label and follow directions carefully prior to use.
Take one (1) capsule twice daily on an empty stomach, or as recommended by a healthcare practitioner.
Warnings
Keep out of reach of children
Do not exceed recommended dose
Do not purchase if outer seal is broken or damaged.
When using nutritional supplements, please consult with your physician if you are undergoing treatment for a medical condition or if you are pregnant or lactating.
Store tightly closed in a cool, dry place.