MAGNUM NUTRACEUTICALS E-BRAKE (72 Capsules)
$69.95
Description
Magnum Nutraceuticals E-Brake
Magnum Nutraceuticals E-Brake is a powerful anti-aromatase compound designed to decrease estrogen production in the body. This is accomplished by blocking the aromatase enzyme that converts testosterone to estrogen. E-Brake not only slows estrogen production – it also decreases the negative effects associated with dihydroxytestosterone (DHT). E-Brake will help you reset your natural hormonal balance quickly so that you can perform at your best.*
What Makes E-Brake Unique?
E-Brake is formulated to slow estrogen production with extreme precision and with well-researched natural anti-aromatase ingredients such acacetin, hesperdin and brassaiopsis glomerulata. Why would you want to slow estrogen production? The benefits of reduced estrogen include increased strength, enhanced muscle growth, reduced recovery time, decreased water-weight and increased libido. The best part is that these amazing effects occur in both men and women making E-Brake a 'one-stop-shop' for hormonal optimization. E-Brake is formulated to stand out amongst other anti-aromatase products due to its unique profile of clinically-proven ingredients in carefully calibrated dosages.*
Who Is E-Brake For?
Men and women looking to increase strength and reduce recovery time*
Men and women who want to build lean muscle *
Anyone experiencing side effects from high DHT or estrogen*
Men and women who want to increase their libido and balance hormones*
Anyone currently/previously using pro-hormones or anabolics in the past*
Designed to decrease estrogen production in the body
Anti-aromatase ingredients: acacetin, hesperdin & brassaiopis
Unique ingredient profile in carefully calibrated dosages
100% daily value of Vitamin D3 in each serving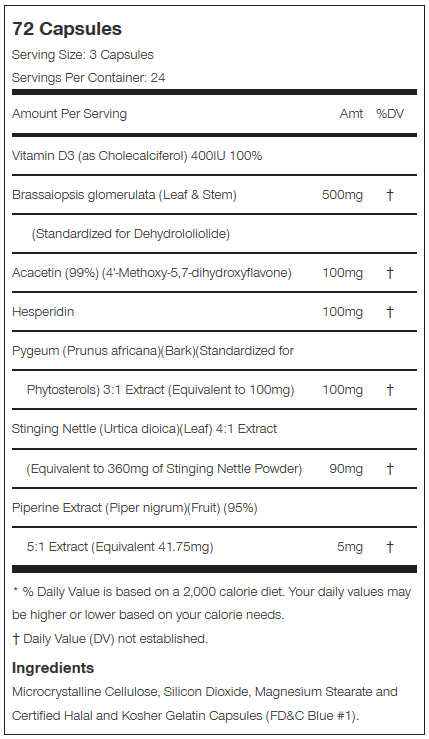 Directions: Take 3 capsules 30 minutes before bed.
Warnings: Do not use if you are under 16 years of age, pregnant or nursing. Consult your physician before use if you have a medical condition or are taking any prescription.