MAMMOTH BCAA (520g)
$64.95
Description
Mammoth BCAA
Mammoth BCAA is resetting the standard for high quality amino acid formulations. The goal was to redefine how you perceive performance, repair, and recovery from a BCAA powder and Mammoth nailed it with this. Expect nothing short of BCAA perfection that tastes absolutely delicious and mixes effortlessly.
BCAA'S (Leucine, Isoleucine, Valine) Muscles breakdown BCAAs while training and Mammoth BCAA provides you with an extremely high dose of this to offset this breakdown. High dosed BCAA's have been shown to accelerate recovery, spare any muscle loss, and help ensure no delayed onset muscular soreness.
Glutamine: This amino acid is essential for recovery and the successful transport of other amino acids, electrolytes, and nutrients across the intestinal barrier. When hydration is a premium during training glutamine helps ensure nutrients carried in water get absorbed properly.
Taurine: This osmolyte has been proven to assist in endurance performance by maintaining proper water balance and neurotransmission in working muscles. It has also been shown to assist electrolytes in and out of the muscle while training as well and is an essential component to the Mammoth BCAA formula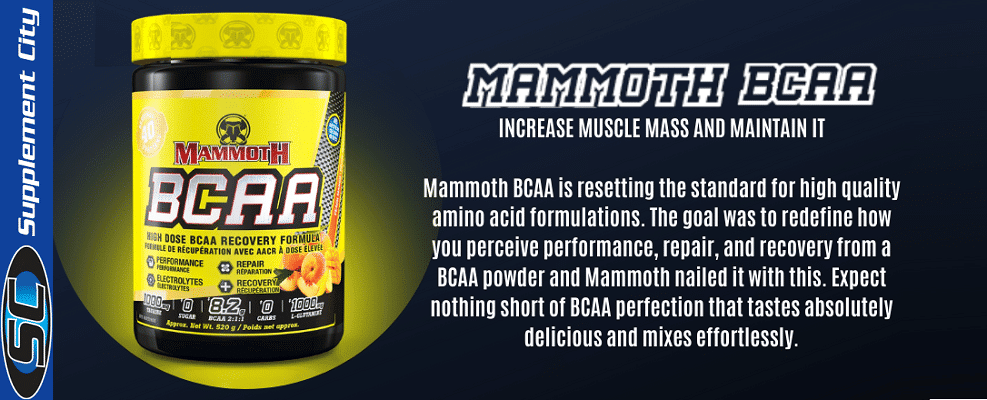 Directions:
Take 1 serving (13g). Mix product well in 1-2 cups (8-16 fl oz / 236-472ml) of liquid (water, juice, etc) immediately before consumption. Take a few hours before or after taking other medications or natural health products.
Additional information
| | |
| --- | --- |
| Flavour | Superfruit, White Grape, Peach Mango |