Sale!
MUSCLE JUNKIE PADDED LIFTING STRAPS (1 Pair)
$24.95
Description
Muscle Junkie Padded Lifting Straps
Muscle Junkie Padded Lifting Straps are premium cotton LIFTING STRAPS provide extreme grip & support!
The Benefits Of MUSCLE JUNKIE LIFTING STRAPS:
Muscle Junkie  Lifting Straps
Muscle Junkie Padded lifting straps with a easy use design to support lifting exercises
helps reduce hand and finger fatigue
24 inch long extra and 2 inch wide extra thick nylon/acrylic webbing for comfort, durability and grip
Padded edges reduces strap burn and increase grip
Simple adjustable design one size fits all
Special rubberized inset grip
Cotton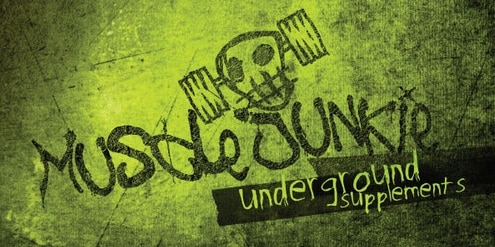 Some More Of Our Leading Products
Muscle Junkie Inferno 3rd Degree
A new era of shredded freaks are about to be bornwith the birth of Cocoabuterol™ AKA "Botanical Resource Clenbuterol", which contains the core active ingredients N-coumaroyldopamine and N-caffeoyldopamine (clovamides), shown in test-tube research trials to imitate the effects of the potent β2-adrenoceptor agonist, fat burning agent, clenbuterol. Test results show that within the category of clovamide substances, N-coumaroyldopamine and N-caffeoyldopamine are the most powerful 2-adrenoceptor-agonists available.
We scoured the planet, sifting through all the most hardcore underground gyms, hunting for the biggest, baddest muscle mutants around to find out what they devour to become such massive, iron slaughtering monsters.
After being exposed to the most brutal, skin ripping cocktails we've ever seen, we salvaged only the ingredients that inflicted the most ballistic muscle building mayhem. We dragged these ingredients down to the basement, where our lab freaks put together this insanely powerful pre-workout concoction which we now call Psycho hīpərˈaktiv.
Psycho hīpərˈaktiv is literally the craziest, most demented pre-workout you will ever take. The intensity will blow your mind and take your training to the psychotic level only true muscle junkies are capable of!