MUSCLE JUNKIE TEST FRENZY (180 Capsules)
$64.95
Description
Muscle Junkie Test Frenzy
Muscle Junkie Test Frenzy is designed to jack up testosterone for lean muscle and strength gains.
Ripped & Muscular
Testosterone is the primary hormone that plays a role in keeping male fitness athletes ripped and muscular.
This study concluded that the increase in muscle mass comes from the ability of testosterone to increase muscle protein synthesis.
Protein synthesis is the mechanism how your body utilizes the protein you get from food and whey shakes.
Stay Strong
Healthy testosterone levels are important to maintain a man's strength levels.
Being able to lift heavier weight during your gym sessions will increase muscle mass.
Declining Testosterone Levels
Possible symptoms of low testosterone range from decreased sexual desire, fat increase, depression and muscle loss.
In the U.S. almost 40% of men over the age of 45 have low testosterone.
Age, stress, environment and lifestyle choices may all contribute to declining testosterone levels.
Natural Boost
Natural remedies include changing factors stated above such as reducing stress, stop smoking, healthier food choices and starting an exercise program.
Athletes may use a natural testoserone booster to help optimize their testosterone levels by stimulating natural production.
Comprehensive Formula
This product contains vital herbal ingredients to help get you back to healthy levels. For example Mucuna Puriens extract was found in 2 studies to increase testosterone and fertility in male subjects.
GABA has been included which earlier studies have shown to increase growth hormone secretion. Essential for healing and recovery from your workouts.
Quality Product
The Anabolic Hormone Mutator Complex contains 7 ingredients to not only stimulate testosterone production but also minimize the female hormone estrogen.
Muscle Junkie Test Frenzy is a great test boosting formula for athletes looking for quality at an affordable price.

Muscle Junkie scoured the planet, sifting through all the most hardcore underground gyms, hunting for the biggest, baddest muscle mutants around to find out what they devour to become such massive, iron slaughtering monsters.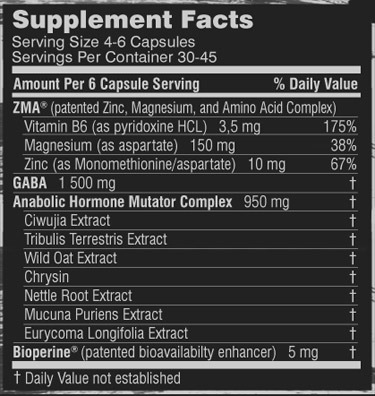 ALLERGENS: None.
This product is made in a factory that uses dairy, soy, nuts, eggs and wheat (gluten).
ZMA® is a registered trademark of SNAC System, Inc.
L-OptiZinc® is a registered trademark of InterHealth N.I.
L-OptiZinc® brand l-methionine-bound zinc (U.S. Patent 5,278,329).
Bioperine® is a registered trademark of Sabinsa Corporation.
Suggested Use
To unleash the full effects of Test Frenzy, devour 4-6 capsules before bed on an empty stomach. Serious muscle mutants should consider taking an additional 4-6 capsule serving, 30-60 minutes before slaughtering the iron.
Use 4 to 5 days per week on training days only and in "cycles" of 8 weeks "on", followed by 4 weeks "off". Avoid taking with foods or supplements containing calcium.
Alternatively use as directed by your health and fitness advisor.
Warning
Seek advice from a health care professional before use if you have any pre-existing medical condition. Do not take this product if you have prostate hypertrophy. Pregnant or lactating women should consult a doctor before using this or any other nutritional supplement. Not recommended for persons under the age of 18. Discontinue use and consult your doctor if any adverse reactions occur. Keep out of reach of children.