MUSCLE NATION ALL NATURAL DAILY GREENS (150g)
$39.95
Description
Muscle Nation All Natural Daily Greens
Combining the nutrient-rich benefits of barley grass, spirulina, kale and celery, Muscle Nation All Natural Daily Greens are the ultimate all-natural superfoods formula for getting more out of your health and functionality. Each scoop is packed with over 20 vitamins and minerals to help optimise your daily nutritional intake in a quick, convenient and tasty formula!
Features
Contains no artificial flavours, colours or sweeteners
Dairy-free and gluten-free
Vegan-friendly
Contains organic ingredients
100% natural, non-GMO
Supports gut health
100% natural daily greens
Delicious natural flavour – no grassy taste!
ORGANIC SPIRULINA
Rich in vitamins and minerals, spirulina has antioxidant and anti-inflammatory properties, as well as the ability to help regulate digestion and immunity.
ORGANIC BARLEY GRASS
Naturally restoring the body's acid-alkaline balance, barley grass helps maintain pH level by neutralising acids caused by many processed foods. High in potassium, calcium and magnesium, this ingredient improves digestive health by reducing stomach acidity levels.
ORGANIC KALE
Kale contains a wide range of nutrients, loaded with antioxidants. Antioxidants help the body remove unwanted toxins, as a build up of these toxins can result in health problems like illness and inflammation.
ORGANIC CELERY
A wonderful source of phytonutrients which helps reduce inflammation in digestive tract, cells, blood vessels and organs.
*These statements have not been evaluated by the Therapeutic Goods Administration. This product is not intended to diagnose, treat, cure or prevent any disease. Please consult a qualified professional before undertaking any health, fitness or dietary program.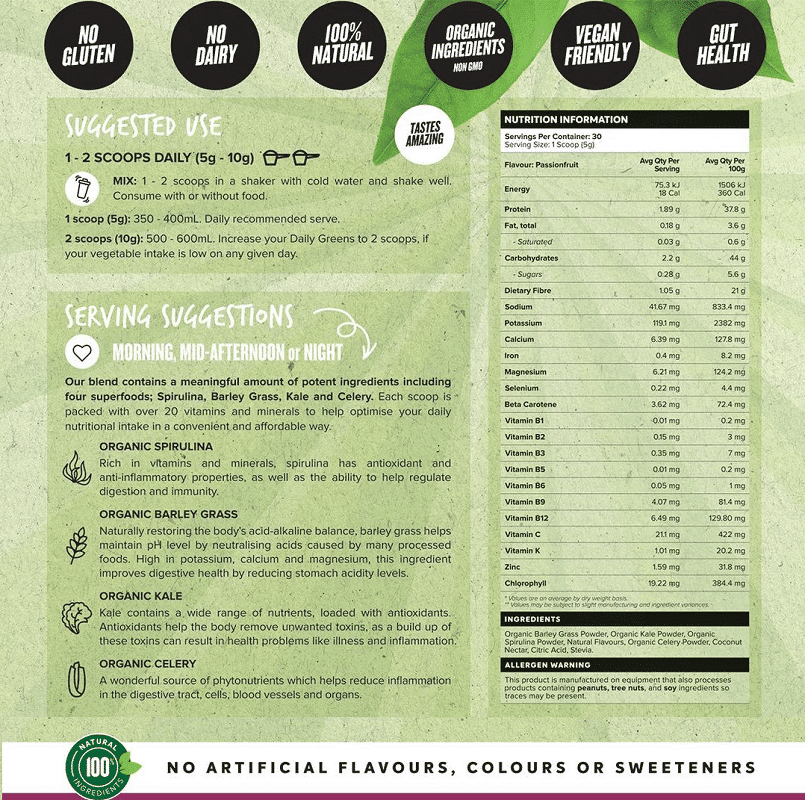 SUGGESTED USE
1 – 2 SCOOPS DAILY (5g – 10g)
MIX: 1 – 2 scoops in a shaker with cold water and shake well. Consume with or without food.
1 scoop (5g): 350 – 400mL. Daily recommended serve.
2 scoops (10g): 500 – 600mL. Increase your Daily Greens to 2 scoops. If your vegetable intake is low on any given day.
SERVING SUGGESTIONS
MORNING, MID-AFTERNOON or NIGHT
ALLERGEN WARNING: This product is manufactured on equipment that also processes products containing peanuts, tree nuts, and soy ingredients so traces may be present.
Additional information
| | |
| --- | --- |
| Flavour | Mixed Berry, Passionfruit |