MUSCLE PHARM COMBAT XL MASS GAINER (5.44kg)
$134.95
Description
Muscle Pharm Combat XL Mass Gainer
MusclePharm Combat XL is a revolutionary weight gaining supplement formulated with dense, functional calories and essential nutrients partitioned precisely to create the perfect muscle building environment carbohydrates, and 4 sources of protein, Combat XL works to promote muscle recovery allowing you to get big – and stay big!
Specially formulated for strength trainers and bodybuilders, Combat XL Mass Gainer contains a complete, expertly blended, holistic protein supplement.
Containing five premium proteins – whey protein concentrate, whey protein isolate, whey protein hydrolysate, micellar casein and egg albumen – Combat XL's mix of fast and medium release proteins make it a perfect all-day supplement.
Enriched with essential and non-essential branched-chain amino acids (BCAA's for muscle growth stimulation and anti-catabolism, Combat XL is a full-spectrum muscle support system.
Gluten free and ultra-low in sugar, for best results take COMBAT two-to-three times per day with ice cold water.
Key Features
Banned Substance Tested
MCTs, Flax, and Chia Seeds
Informed-Choice Trusted by Sport
Revolutionary All-In-One Weight Gainer
High Performance Formula Supporting Superior Size and Strength
Rapidly Increases Rate of Muscle Recovery
Natural & Artificial Flavors
1270 Calories
50 g Protein
252 g Carbs
Gluten Free
Made in a cGMP Registered Facility
**These statements have not been evaluated by the Therapeutic Goods Administration. This product is not intended to diagnose, treat, cure or prevent any disease. Please consult a qualified professional before undertaking any health, fitness or dietary program.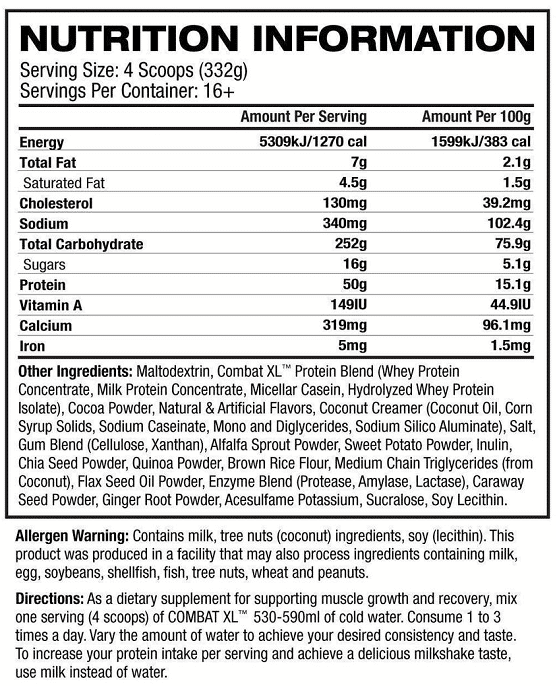 Suggested Use:
As a dietary supplement for supporting muscle growth and recovery, mix one serving (4 scoops) of Combat XL with 18-20 fl. oz. of cold water. Consume 1 to 3 times a day. Vary the amount of water to achieve your desired consistency and taste. To increase your protein intake per serving and achieve a delicious milkshake taste, use milk instead of water.