MUSCLESPORT ALPHA BURN (150g)
$62.90
Description
Musclesport Alpha Burn
Musclesport Alpha Burn combines two forms of L-Carnitine, proven by research to aid in lipid metabolism and ATP production, with novel, patented thermogenics and metabolism boosting ingredients that creates a perfect
synergy to help you burn body fat, amplify cellular energy, and recover quicker from exercise-induced muscle damage.
L-Carnitine Tartrate – Essential for transporting long-chain fatty acids from the cytosol into the mitochondria for subsequent fat breakdown and energy production.
L–Carnitine Fumarate – Combined, L-Carnitine and Fumarate provide dual support for energizing the heart and skeletal muscles.*
Paradoxine Aframomum Melegueta Seed Extract – Research shows this compound can activate brown adipose tissue and increase whole-body energy expenditure.
If you are serious about changing your physique and are following a proper diet and exercise program, then Alpha Burn may help you reach your body composition goals. Using key ingredients backed by scientific studies, Alpha Burn is an innovative and groundbreaking formula that can deliver amazing results.
5 Thermogenic, Fat Burning Compounds
Energy & Focus Matrix
Estrogen Management
Clinically Dosed Ingredients & Fully Transparent Label
**These statements have not been evaluated by the Therapeutic Goods Administration. This product is not intended to diagnose, treat, cure or prevent any disease. Please consult a qualified professional before undertaking any health, fitness or dietary program.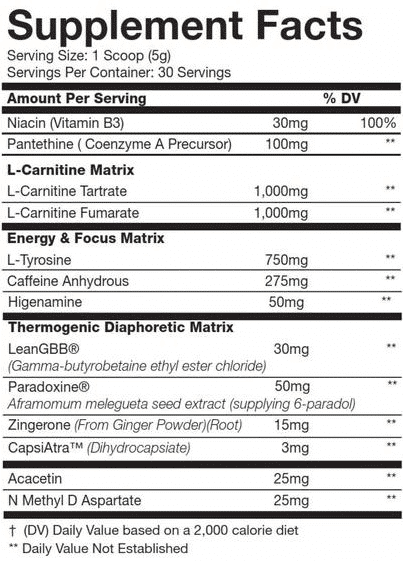 Directions:
Mix one serving (5g) with 8-10oz of water or your energy based pre-workout approximately 30 minutes prior to training.
Additional information
| | |
| --- | --- |
| Flavour | Cosmic Candy, Pineapple |