MUSCLESPORT AMINO REVOLUTION (390g)
$55.95
Description
Musclesport Amino Revolution
Get ready for the next level in amino acid supplements with Musclesport Amino Revolution. Amino acids are the single most critical nutrient for muscle growth and recovery. It features a combination of Essential Amino Acids (EAA) and Branched Chain Amino Acids in the optimal Amino9™ ratio to take muscle anabolism to the max!
With BCAA and EAA working in unison with the MTOR-Activating Anabolic Recovery Matrix and Revolutionary Cellular Recovery & Hydration Matrix, it can be said with absolute confidence… Musclesport Amino Revolution is the best amino acid supplement out!
Amino9™ is a unique and powerful blend of EAA that may be better than protein for building muscle – just 1.5g of Amino9™ was found to increase anabolism as much as 40g whey protein!
Leucine is the amino acid responsible for triggering Muscle Protein Synthesis, enhancing muscle growth and recovery.
Cornerstone™ HICA and PureKIC® are leucine metabolites with even greater potential for reducing Muscle Protein Breakdown and increasing total muscle anabolism alongside the EAAs.
AstraGin® maximizes amino acid absorption to ensure athletes get the absolute most out of every bit of AminoREV.
NordicCherry™ tart cherry powder has been thoroughly demonstrated to increase recovery from exercise, decrease soreness, and improve performance.
Muscle Protein Synthesis and Muscle Protein Breakdown are two sides of the same muscle-building coin.
With Musclesport Amino Revolution, you get both! The amino acids may maximize muscle anabolism while HICA and KIC may reduce muscle catabolism, creating the greatest net increase in muscle growth and recovery possible.
Going beyond aminos, the Tart Cherry Powder, CoCoganic™ Coconut Water Powder, and electrolytes in Musclesport Amino Revolution may reduce muscle soreness, promote rehydration, improve performance and stamina, and maintain cellular fluid balance to get you back to training faster and kick your game up a notch!
Superior BCAA and EAA Blend*
Leucine Metabolites, HICA and KIC, Reduce Muscle Breakdown*
AstraGin to Enhance Amino Absorption*
May Accelerate Recovery from Training*
**These statements have not been evaluated by the Therapeutic Goods Administration. This product is not intended to diagnose, treat, cure or prevent any disease. Please consult a qualified professional before undertaking any health, fitness or dietary program.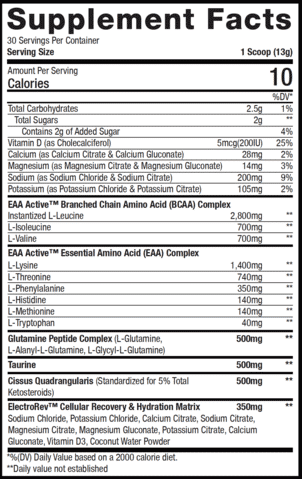 Directions:
Mix 1 level scoop with 12-16 oz. of cold water or any beverage of your choice before, during, or after your workout.
For best results consume at least 2 servings per day.
Additional information
| | |
| --- | --- |
| Flavour | Frozen Limarita, Patriot Popsicle |