MUSCLESPORT H20 REVOLUTION (90 Capsules)
$44.95
Description
Musclesport H20 Revolution
Musclesport H20 Revolution is the #1 water depletion tool on the market! Using a matrix that combines the industries top herbal diuretics, H2O Revolution™ will help remove subcutaneous water from in between your muscles to help you achieve that ripped, dry, and toned look.
A look at a few key ingredients in H2O Revolution™ will show you why.
Dandelion Root Extract – A time tested and proven diuretic that increases urinary expulsion and eliminates excess water.
Caffeine Anhydrous, Yerba Matte, & Green Tea – These ingredients not only acts as potent thermogenics but also effective diuretics (water eliminating).
Asparagus Extract – Often used with lots of fluids as "irrigation therapy" to increase urine output.
Uva-Ursi Root – Helps to tighten upper layers of the mucous membrane – relieving irritation and improving tissue firmness.
Juniper Extract – Acts as a diuretic by increasing glomerular filtration rate.
ADVANCED WATER DEPLETION*
15 water shedding compounds*
Helps remove subcutaneous water between muscles to help you achieve a ripped, dry look*
Includes an electrolyte replenishment matrix
Helps improve tissue firmness*
Good source of dietary fiber, folic acid, vitamin C, vitamin E, vitamin B6, and several minerals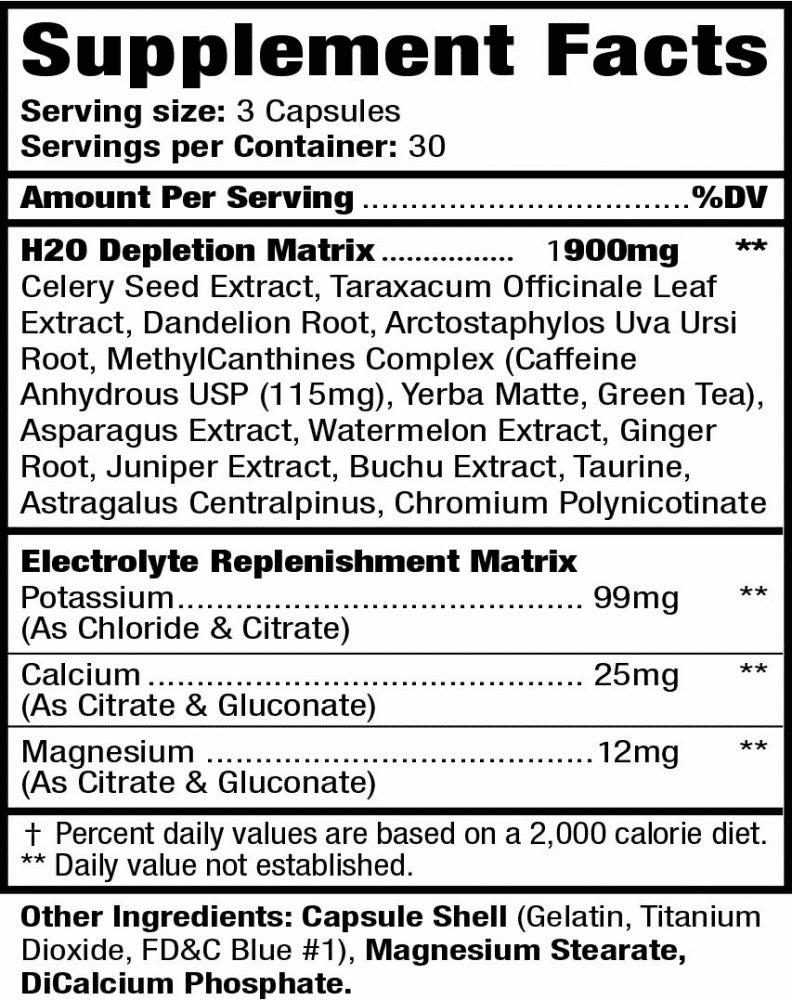 Directions
Take 1 serving (3 Capsules) in the AM on an empty stomach and 1 serving before your mid-day meal.