MUSCLETECH 100% MASS GAINER (2.33kg)
$48.95
Description
Muscletech 100% Mass Gainer
Muscletech 100% Mass Gainer is packed with high-quality protein and mass-producing calories, plus muscle-fueling creatine, a proven anabolic driver for faster mass and strength gains.
• NUTRIENT-DENSE MUSCLE FUEL. The high-quality protein and easily digestible carbs can deliver 1,500 clean calories when mixed with 2 cups of skim milk.
• INCREASE PROTEIN SYNTHESIS. Each serving supplies over 6g of L-leucine and more than 13g of BCAAs when mixed with 2 cups of skim milk – important nutrients for increasing muscle protein synthesis after a workout.
• MAXIMIZE STRENGTH POTENTIAL TODAY. 100% Mass Gainer only uses pure HPLC-tested creatine. Scientific studies have shown that it helps replenish ATP stores in the body for enhanced performance, more muscle and increased strength.
• ALL KILLER, NO FILLER. No under-dosed ingredients or fillers in this formula! Every fully disclosed scoop of 100% Mass Gainer provides maximum potency for maximum results.
Each of Muscletech's formulas is backed by science, developed by the industry's leading experts, and designed to help you push your limits and recover more quickly. MuscleTech is trusted by competitors around the world—each ingredient is safe and fully disclosed.
**These statements have not been evaluated by the Therapeutic Goods Administration. This product is not intended to diagnose, treat, cure or prevent any disease. Please consult a qualified professional before undertaking any health, fitness or dietary program.

Chocolate Fudge Brownie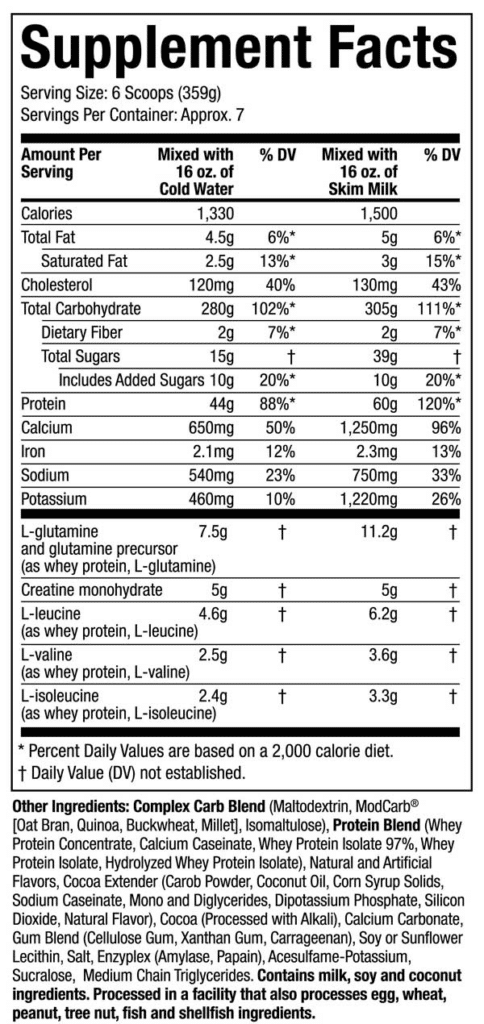 Vanilla Milkshake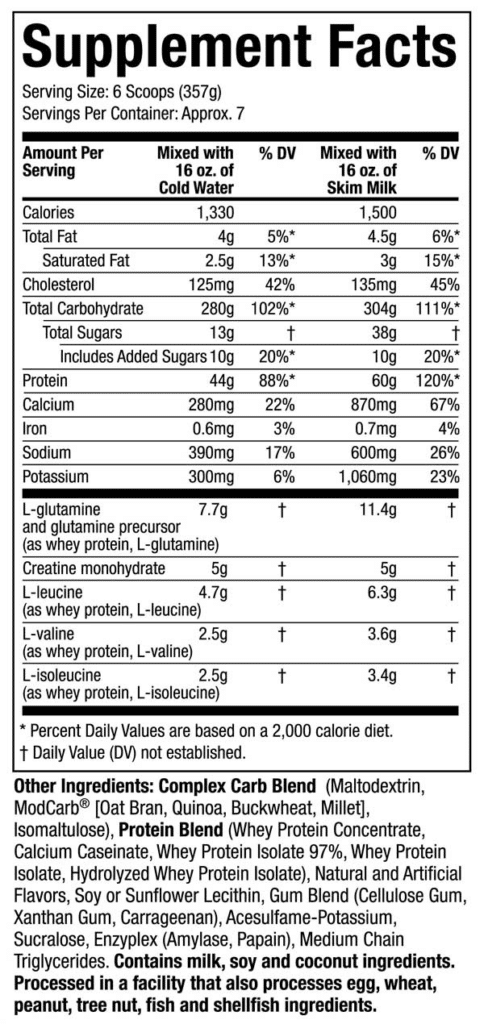 Directions:
Mix 1 serving (6 scoops) with 2 cups (16 oz.) of cold water or skim milk. For best results, mix in a blender.
When To Take:
For accelerated weight gain, drink 1 serving everyday between meals. On days when you're working out, drink immediately after your workout. For maximum results, drink 2 servings every day.

Additional information
| | |
| --- | --- |
| Flavour | Chocolate Fudge Browinie, Vanilla Milkshake |