MUSCLETECH ALPHA TEST (120 Rapid Release Capsules)
$84.95
Description
Muscletech Alpha Test
MuscleTech Alpha Test is scientifically engineered to deliver the most powerful testosterone-boosting ingredients on the market today to stimulate free testosterone, maintain peak testosterone-to-cortisol ratio and enhance training performance!
ELEVATE FREE (ACTIVE) TESTOSTERONE AND DESCREASE ESTRADIOL
Alpha Test is formulated with boron citrate that supplies a precise dose of boron shown in a recent 2011 scientific research study on eight healthy male volunteers to significantly increase free (active) testosterone levels and decrease estradiol levels after only seven days.
INCREASE SERUM TESTOSTERONE LEVELS AND BOOST ATP
Featuring PrimaVie, a patented clinical-strength form of shilajit. Shilajit in its natural state has no chemical definition. In order to yield a consistent and efficacious form of shilajit, it is obtained from carefully selected rocks and is put through a patented technology to purify and standardize it. This form of shilajit is now assured of optimal levels of bioactive components such as fulvic acid and dibenzo-pyrones.
This rare organo-mineral compound has been shown in clinical research to significantly increase total serum testosterone levels in 90 days. In another study, shilajit was shown to boost ATP levels in just 15 days! ATP is a critical energy source used during workouts.
TESTED FOR QUALITY AND PURITY
Each bottle of Alpha Test  features fully disclosed ingredients with nothing hidden inside proprietary blends. Also, each batch of Alpha Test undergoes strict quality control and is third-party tested and verified to ensure that each bottle meets the highest standards of purity, quality and consistency. You can trust that what is listed on the label is in the bottle!
**These statements have not been evaluated by the Therapeutic Goods Administration. This product is not intended to diagnose, treat, cure or prevent any disease. Please consult a qualified professional before undertaking any health, fitness or dietary program.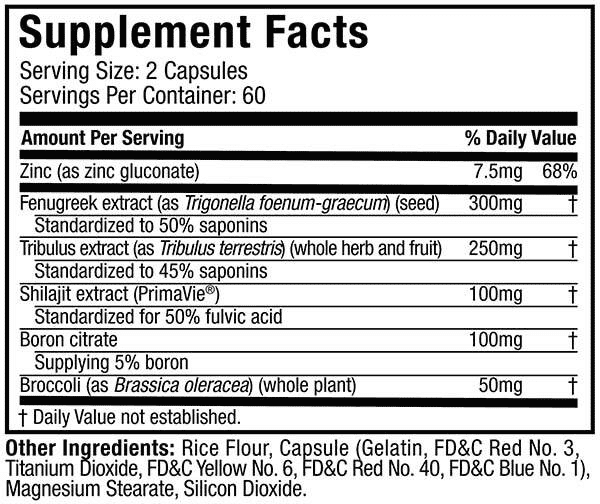 Directions: Take 2 capsules with a glass of water two times daily. Do not exceed 4 capsules in a 24-hour period. Read the entire label before use and follow directions provided.
Warning: For adult use only. Do not use if pregnant or nursing. Consult a medical doctor before use if you have a medical condition and before starting a diet or exercise program. KEEP OUT OF REACH OF CHILDREN.