MUSCLETECH CREABUILD BLACK ONYX (336g)
$34.95
Description
Muscletech Creabuild Black Onyx
Muscletech Creabuild Black Onyx is a powerful musclebuilding plus creatine formula built with ingredients scientifically proven to enhance size, strength, recovery, performance and ATP production. Only our game-changing musclebuilding blend features CinDura®, a botanical-based strength enhancer, plus 6g of creatine and 2.5g of betaine. This is an all-in-one formula, delivering strength and performance in one single scoop for max horsepower.
ACTIVATE MUSCLE GROWTH
Along with our exclusive ingredient, CinDura®, CreaBuild Black Onyx® is also loaded with a class-leading 6g researched dose of creatine, from creatine HCI and creatine monohydrate, plus 2.5g of betaine – two ingredients proven in multiple studies to activate muscle growth and increase strength. This formula is going to take your muscles to the next level, and you can't get it from anywhere but MuscleTech®.
OPTIMIZE YOUR ENERGY PRODUCTION
The new and exclusive ingredient matrix CinDura® is believed to help optimize energy production (ATP) through the mitochondria and combat muscle breakdown through inhibition of the proteasome pathway, facilitating greater strength, endurance and lean muscle.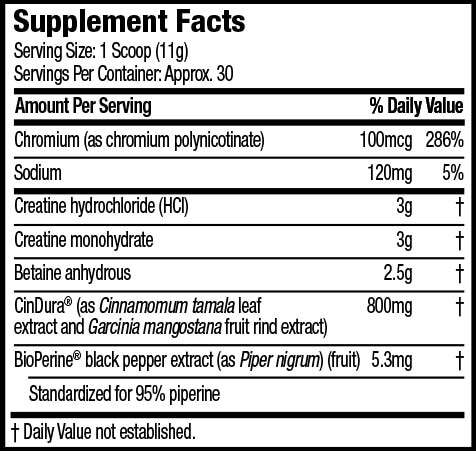 Directions: Mix 1 serving (1 scoop) with 10 oz. of water once daily. Maintain an adequate state of hydration.