Muscletech Cell Tech Creactor (235g)
$49.90
Description
Muscletech Cell Tech Creactor
Muscletech Cell Tech Creactor is a scientifically advanced creatine that delivers a potent, micro-dose of creatine. Each serving delivers 750mg of 100% ultra-pure, laboratory-tested creatine hydrochloride (creatine HCl). Plus 750mg of free-acid creatine – the purest form of creatine, free of acids and salts. This powerful never-before-seen ratio of creatine molecules delivers an enhanced creatine experience!
Key Benefits
Boosts size, strength & recovery
No loading or bloating
More than 2x the servings of the competition
Twice the creatine of the competition
The amount of creatine found in just two super-concentrated scoops of Cell-Tech® Creactor® is scientifically proven to increase muscle strength, size and performance.
This formula rapidly enhances your muscle cells' ability to regenerate adenosine triphosphate (ATP) – their primary source of anaerobic energy – so you can recover faster between sets.
ou're looking for nothing more than exactly what you need. Cell-Tech® Creactor® delivers ultra-pure and free-acid creatine — so you can avoid bloating and never have to load or cycle it.
Bodybuilder's swear by creatine, but should you be shaking up your supplementation too? If you are looking to level up your workouts or increase exercise intensity, the answer is yes! Based on research, creatine has been shown to modestly improve upper and lower body strength in both younger and older adults.
Its not all about an increase in muscle mass. Creatine can also play an important role in brain health and function. Research demonstrates that your brain requires a significant amount of ATP when performing difficult tasks. Creatine may also aid brain function by increasing dopamine levels and mitochondrial function.
**These statements have not been evaluated by the Therapeutic Goods Administration. This product is not intended to diagnose, treat, cure or prevent any disease. Please consult a qualified professional before undertaking any health, fitness or dietary program.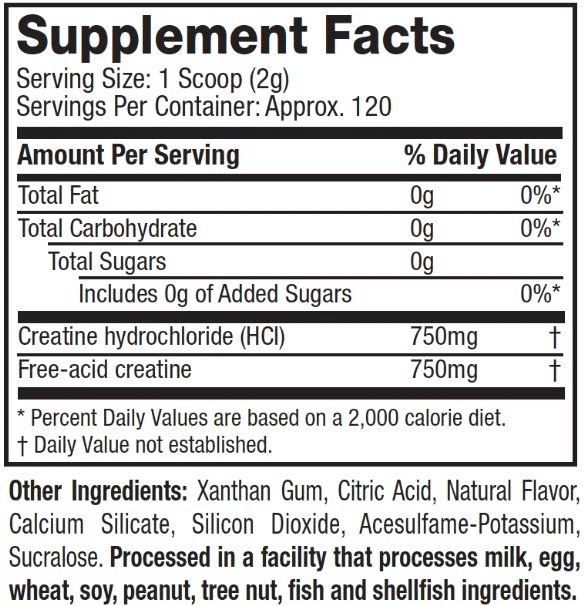 Directions:
Mix 1 serving (1 scoop) with 235ml of water and consume two times daily. On workout days, consume immediately after your workout. Do not exceed 2 servings in a 24-hour period. Drink 8 to 10 glasses of water daily for general good health. Read the entire label before use and follow directions provided.