MUSCLETECH ISO WHEY CLEAR (503g) PROTEIN ISOLATE
$49.95
Description
Muscletech  Iso Whey Clear

Muscletech Iso Whey Clear might look and taste totally different, but you're still getting those same benefits from whey protein isolate you know and love. With only 90 calories per serving, every scoop delivers 22g of protein from pure whey isolate, plus ProHydrolase® for superior amino absorption. The choice is clear – with an amazing taste, zero grams of sugar or fat, 1g of carbs or less, and a clean source of protein and amino acids, Iso Whey Clear is a no-brainer!*
What Is Prohydrolase®
ProHydrolase® is a digestive enzyme combination that helps to quickly and efficiently break down protein into a bio-usable form. In a clinical study on protein digestion, subjects who consumed whey protein in combination with ProHydrolase® experienced an average of 20% better amino acid absorption vs. taking whey protein alone. Iso Whey Clear features a scientific dose of ProHydrolase® in every scoop to help maximize absorption enhance strength and boost recovery.*
What Is The Researched Dose of ProHydrolase®
Only the researched dose of Prohydrolase delivers the added benefit of 20% better absorption. This is why Iso Whey Clear is engineered with the exact researched dose of 220mg of prohydrolase with 22 grams of protein. That's equal to 10mg of Prohydrolase per gram of protein!*
Mixes Clear Into Water, With A Fruity Taste You'd Expect From A BCAA!
22 grams of protein per serving
Zero grams of fat and sugar
220mg Prohydrolase®
Delicious fruity flavors mix clear in your water
When you think protein, you probably think of that milkshake-like texture. Think again. Your typical protein has been reimagined into something lighter and more flavorful. This protein mixes clear into your water – with the fruity flavors you'd typically expect from your BCAAs and pre-workouts.*
**These statements have not been evaluated by the Therapeutic Goods Administration. This product is not intended to diagnose, treat, cure or prevent any disease. Please consult a qualified professional before undertaking any health, fitness or dietary program.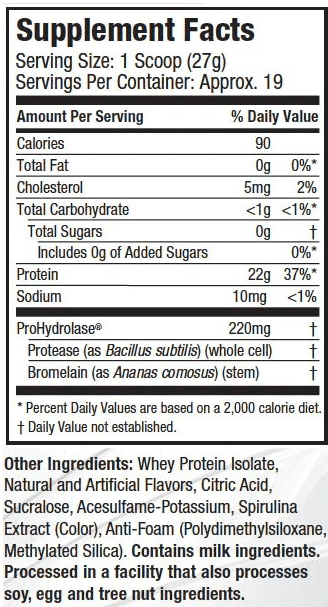 Additional information
| | |
| --- | --- |
| Flavour | Lemon Berry Blzzard |