MUSCLETECH NITRO TECH CASEIN GOLD (2.27kg)
$119.95
Description
Muscletech Nitro Tech Casein Gold
Prolonged-Release Premium Casein Protein with Muscletech Nitro Tech Casein Gold, For decades MuscleTech has been a leading protein brand. Built on a foundation of human research and cutting-edge science, it's earned the trust of countless consumers worldwide. Now the same research and development team has pioneered a new slow-release protein formula based on superior protein sources for longer absorption and better taste.
8-Hour, Sustained Amino Acid Delivery
Enhance your recovery with sustained nutrient release. Casein and milk protein are some of the slowest digesting proteins available. Nitro-Tech Casein Gold delivers 24 g of high-quality protein taken from multiple premium casein sources, including primarily micellar casein. In fact, the protein source used in Nitro-Tech Casein Gold has been shown in research published in The America Journal of Clinical Nutrition to release amino acids into your bloodstream for up to 8 hours after taking it.¹ Because of this sustained-release property, its highly anabolic and anti-catabolic formula promotes a musclebuilding environment for longer periods of time. What's more, each enhanced serving of Nitro-Tech Casein Gold contains 10 g of naturally occurring BCAAs, glutamine and precursor, and only 1 g of sugar. Combined with an award-winning flavor profile, Nitro-Tech Casein Gold is as good for your taste buds as it is for your muscles.
The Superior-Tasting Protein Formula
Slow-digesting protein blend to support prolonged amino acid release to continuously feed your muscles
Features the most premium casein protein blend for superior amino acid profile
10 g of anabolic BCAAs, glutamine and precursor for better muscle protein synthesis and recovery
Superior cold-processed, ultra-pure micro-filtered protein blend featuring micellar casein
Compared to typical casein powders, Nitro-Tech Casein Gold has a better texture for a superior flavor profile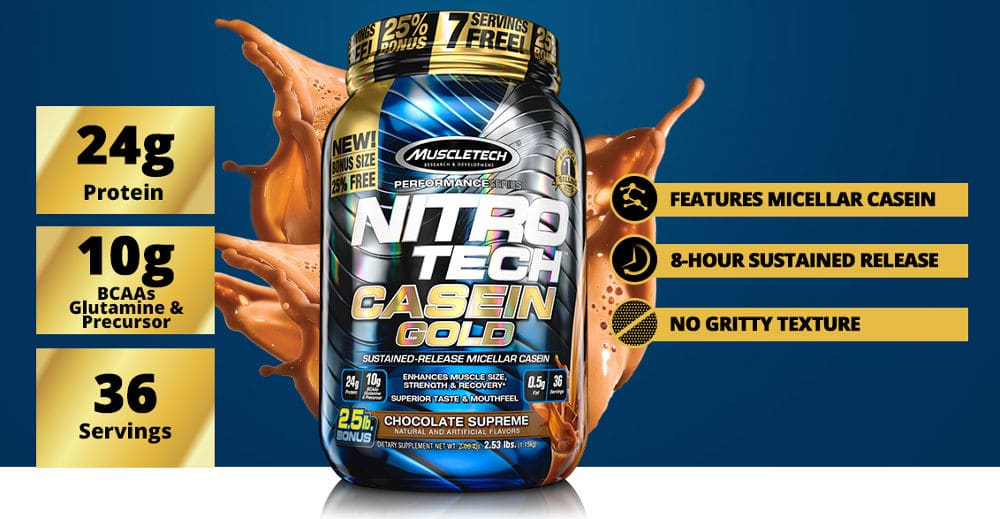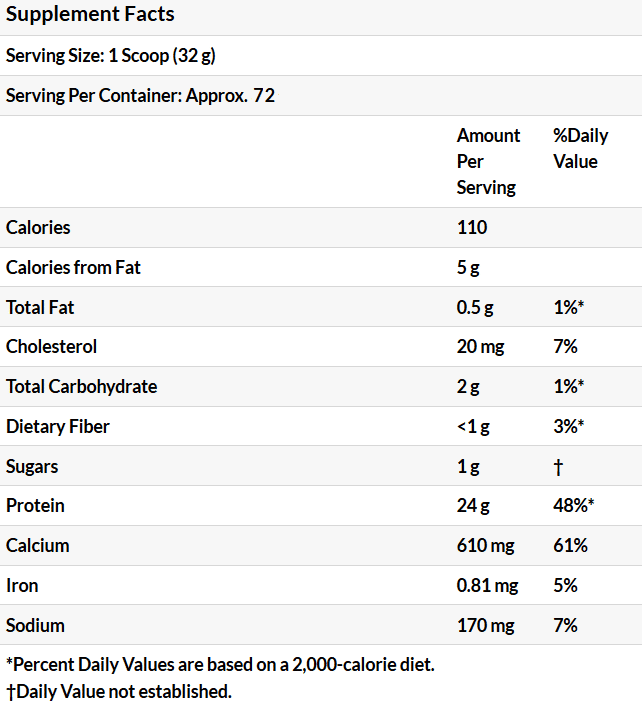 Suggested Use
Mix 1 serving (1 scoop) with 8 to 10 oz. of cold water or skim milk in a glass or shaker cup. For best results, mix 2 servings (2 scoops) with 16 to 20 oz. of cold water or skim milk in a glass or shaker cup. Ideal use is nighttime and between major meals. Read the entire label before use and follow directions provided.
Other Ingredients
Micellar casein plus blend (milk protein isolate [supplying micellar casein], calcium caseinate, micellar casein), cocoa powder (processed with alkali), salt, natural and artificial flavors, gum blend (cellulose gum, xanthan gum, carrageenan), acesulfame-potassium, sucralose, soy lecithin.
Contains milk and soy ingredients. Processed in a facility that also processes egg, wheat and tree nut ingredients.
Warnings
Note: To maintain product freshness, store in a cool, dry place (60ºF to 80ºF). This product is sold by weight. Some settling may occur. Shake container before use.
Do not use if pregnant or nursing. Consult a medical doctor before starting a diet or exercise program.
Do not use if packaging has been tampered with.
Notice: Use this product as a food supplement only. Do not use for weight reduction.
Additional information
| | |
| --- | --- |
| Flavour | Chocolate Supreme |