MUSCLETECH NITRO TECH ELITE 100% WHEY ISOLATE (818g)
$54.95
Description
Muscletech Nitro Tech Elite 100% Whey Isolate
This powerful Muscletech Nitro Tech Elite 100% Whey Isolate formula was engineered by MuscleTech researchers to contain synergistic key ingredients shown in multiple clinical studies to help pack on more muscle, increase strength and maximize power. It features only premium whey protein isolate for superior absorption and digestibility, easy mixing and high levels of essential branched chain amino acids.
It Features the digestive enzyme combination ProHydrolase, may prove amino acid absorption by 20% into a bio-usable form vs. taking protein alone
SCIENTIFICALLY SUPERIOR – 25g Whey Protein, 5.8G BCAA Amino Acids in each scoop
Key Ingredients: Whey Protein Isolate 97% ProHydrolase® (Protease [as Bacillus subtilis, whole cell] and Bromelain [as Ananas comosus, stem]) MyHMB and creatine for Enhanced strength and lean muscle
Product Benifits
100% Ultra-pure whey protein isolate
Amplified with ProHydrolase® for amino absorption
Boost lean muscle and performance efficiency
More strength, better results
Better recovery with nortic cherry
All killer, no filler—formulated to cover it all
Advanced, 5-in-1, muscle building formula*
**These statements have not been evaluated by the Therapeutic Goods Administration. This product is not intended to diagnose, treat, cure or prevent any disease. Please consult a qualified professional before undertaking any health, fitness or dietary program.

Chocolate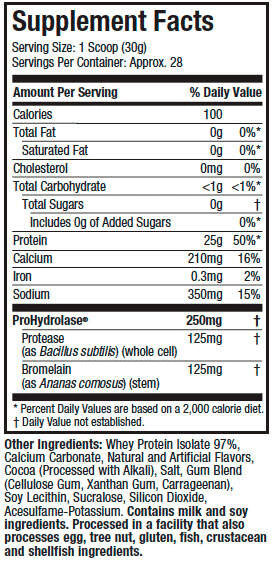 Vanilla