MUSCLETECH NITRO TECH ISO WHEY (2.26kg)
$109.95
Description
Muscletech Nitro Tech Iso Whey

Muscletech Nitro Tech Iso Whey is produced to deliver less fat, carbs, cholesterol, lactose and impurities. But, not all isolates are created equal. Nitro-Tech 100% ISO Whey is formulated with only 97% whey protein isolate to create the purest protein formula available. The protein in Nitro-Tech 100% ISO Whey has been purified through a unique, selective ion-exchange process, resulting in a 97% level of purity, making it a premium, high biological value protein source. You work hard to build the body you want, so make sure you fuel it with only the best.
Featuring ProHydrolase Designed for Better Amino & BCAA Absorption
Protein and amino acids, particularly BCAAs, are essential to muscle growth and recovery. That's why Nitro-Tech 100% ISO Whey features the digestive enzyme combination ProHydrolase, which is designed to help quickly and efficiently break down protein into a bio-usable form. In a clinical study on protein digestion, subjects who consumed whey protein in combination with ProHydrolase experienced an average of 20% better amino acid absorption vs. taking whey protein alone.
The Highest Protein Percentage Per Scoop
Other whey isolate formulas on the market are clean, but we're cleaner! For each 29 g scoop, Nitro-Tech 100% ISO Whey provides 25 g of protein. This means 86% of each scoop is pure, musclebuilding protein. We achieve this level of purity by including only the highest quality protein source, ProHydrolase and flavoring. This formula is as lean as it gets!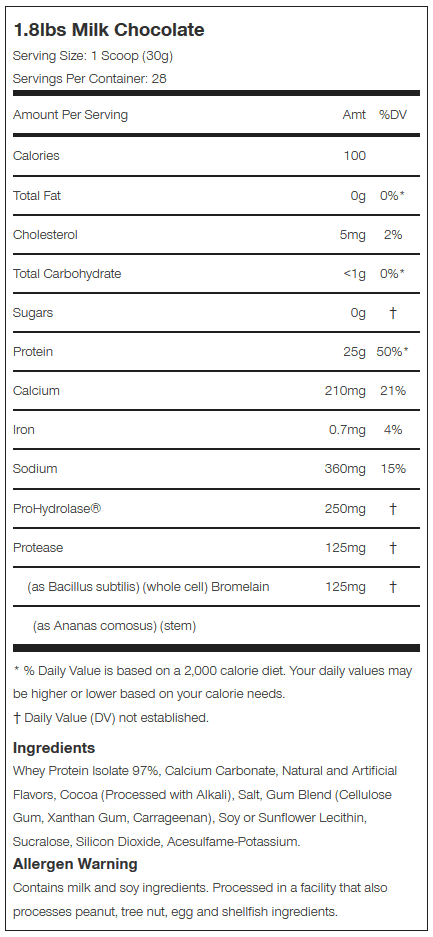 Directions:
Mix 1 to 2 scoops with 6 to 12 oz. of cold water or skim milk in a glass or shaker cup. Use between major meals and before and after exercise. Read the entire label before use and follow directions provided.
Warnings:
Not intended for use by persons under 18. Do not use if pregnant or nursing. Consult a medical doctor before starting any diet or exercise program or if you have a medical condition. KEEP OUT OF REACH OF CHILDREN.
Additional information
| | |
| --- | --- |
| Flavour | Milk Chocolate, Vanilla |