MUSCLETECH PLATINUM 100% L-CARNITINE 1500 (473ml)
$29.95
Description
Muscletech Platinum 100% L-Carnitine 1500
Muscletech Platinum 100% L-Carnitine 1500 has a combination of ingredients designed to support muscle energy and recovery. This delicious formula is rapid-acting so that you can get the benefits of it quickly.
Carnitine is critical for when it comes to energy production in the body as it helps to transport fatty acids into the cells' mitochondria. Platinum 100% L-Carnitine 1500 contains pure carnitine and pantothenic acid (also known as vitamin B5) for superior quality and results.
MuscleTech has created this supplement with a fully disclosed label, so you know exactly what you are having in each serve. We have added no fillers or frills, so you know Platinum 100% L-Carnitine 1500 contains precisely what you need.
SUPPORTS MUSCLE RECOVERY FROM EXERCISE*
The L-carnitine contained in Platinum 100% L-Carnitine 1500 is shown in multiple human clinical studies to support post-workout recovery . Research suggests it also combats free-radical formation, minimizes muscle tissue disruption and promotes recovery*. Less post-workout soreness and faster recovery means you can increase your training frequency and push yourself harder the next time you train – resulting in faster progress over time!*
GREAT-TASTING
Unlike other L-carnitine liquids that are unflavored, Platinum 100% L-Carnitine 1500 has been flavored with a delicious Citrus Splash taste. This convenient formula can be taken before or after your workout, making this carnitine liquid an ideal supplement to add to your musclebuilding stack.
HPLC TESTED FOR QUALITY AND PURITY
We utilize high-performance liquid chromatography (HPLC)-tested L-carnitine only. Each bottle of Platinum 100% L-Carnitine 1500 undergoes strict quality control and is third-party tested and verified to ensure that each bottle meets the highest standards of purity, quality and consistency.
THE ESSENTIAL SERIES PROMISE
For over 20 years, MuscleTech has been synonymous with results – this is the reason they're the #1 selling body building supplement brand in America. Essential Series products are staples for every athlete, with no fills and no fillers – just products you can tryst packed by the best brand in sports nutrition.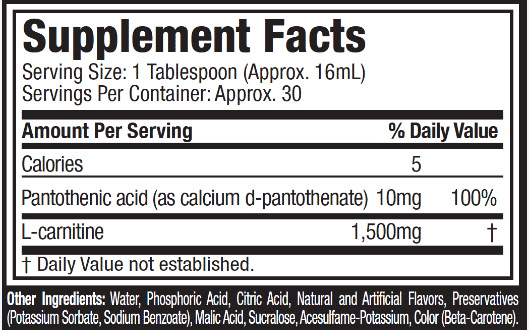 Directions:
Shake well before each use. Take 1 serving (1 tablespoon) of liquid up to 2 times daily before or after your workout. May also be mixed with youtr favourite juice or beverage.