MUSCLETECH PLATINUM 100% TRIBULUS (100 Capsules) 650mg
$69.95
Description
Muscletech Platinum 100% Tribulus
The new Muscletech Platinum 100% Tribulus delivers 650 mg of pure Tribulus terrestris extract per serving, making it an excellent addition to your supplement stack. What's more, the tribulus used in Platinum 100% Tribulus is standardized to 90% saponins! that's twice as potent as other brands that are most often standardized to 40% to 45% saponins!
Stimulant-Free 
Platinum 100% Tribulus is stimulant-free, which means you can take it throughout the day, between meals and with any other supplement.
MuscleTech delivers all your favorite ingredients and products with the best science, taste and value. Essential Series products are staples for every athlete, with no frills and no fillers – just products you can trust backed by the best brand in sports nutrition.
Many supplement companies don't fully disclose their ingredients. They also don't invest in science, research or quality control. At MuscleTech®, a portion of every dollar spent on supplements is allocated towards funding scientific research. This means you can trust Essential Series for superior quality and results, as is the Muscletech® promise.
Ultra-Pure Tribulus Extract 
MuscleTech is America's #1 Selling Bodybuilding Supplement Brand based on cumulative wholesale dollar sales 2001 to present.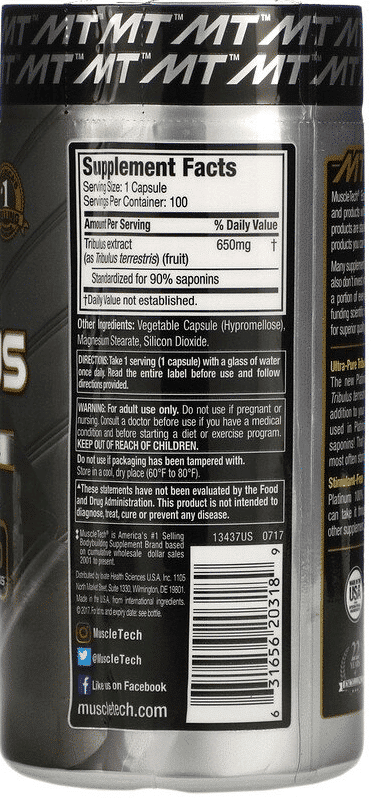 Suggested Use:
Take 1 serving (1 capsule) with a glass of water once daily. Read the entire label before use and follow directions provided.
Other Ingredients:
Vegetable capsule (hypromellose), magnesium stearate, silicon dioxide.
Warnings:
For adult use only. Do not use if pregnant or nursing. Consult a doctor before use if you have a medical condition and before starting a diet or exercise program. Keep out of reach of children.
Do not use if packaging has been tampered with. Store in a cool, dry place (60º-80ºF).