MUSCLETECH PREMIUM MASS GAINER (5.44kg)
$89.95
Description
Muscletech Premium Mass Gainer
Muscletech Premium Mass Gainer contains a high calorie and protein ratio per serving as well as essential nutrients to support recovery and nutrient absorption for better results. For anyone trying to put on weight, mass gainers supplements are the perfect addition to a supplement stack.
As you try to maximise the number of calories and protein you have to take the right mass gainer supplement that will make your job just that little be easier. When it comes to putting on weight and size, the amount you nutrients you ingest a day is crucial, so is the training you do.
Muscletech Premium Mass Gainer has the right nutrients so you can easily better your results in and out of the gym. The combination of ingredients will provide your body with everything necessary for those gains you have been working so hard for.
Support muscle mass gain with the combination of ingredients that are specifically designed to help you put on muscle mass.
Support recovery with the added bcaa and glutamine, which will give your body the right nutrients to help with recovery after a hard training session.
Support absorption of nutrients. This mass gainer supplement has been designed to help support the absorption of nutrients, so you are taking everything you need to gain mass.
Support better body composition results. When you combine this product with the right diet and exercise plan focused on gaining mass, you will see even better results.
When it comes to putting on muscle mass, get your hands on the Premium Mass Gainer. A mass gainer formula designed to help you achieve all the gains you have been working so hard for.
Each serving contains:
1260 calories and 53g of protein
5g of fat and 2.5g is saturated
250g of carbohydrates and 13g is sugar
10g of creatine monohydrate
8.6g of glutamine
12.4g of branched chain amino acids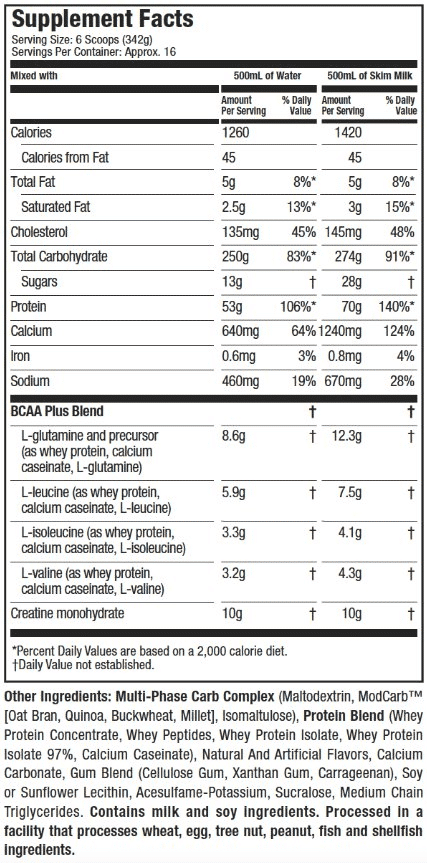 Directions:
Mix 1 serving (6 scoops) with 475ml – 540ml of water or skim milk in a blender. Alternatively, mix 1/2 serving (3 scoops) with 240ml – 540ml of water or skim milk in a shaker cup and consume twice daily. Drink 8 – 10 glasses of water daily for general good health.