MUSCLETECH SHATTER PUMPED8 BLACK ONYX (164g)
$49.95
Description
Muscletech Shatter Pumped8 Black Onyx
Muscletech Shatter Pumped8 Black Onyx is the only pre-workout with 4 clinically dosed pump drivers in one scoop for instant impact. The key ingredient VasoShock-XR™ provides the longest lasting pump. The best part? It's exclusive to MuscleTech®, which means you won't find it anywhere else.
Boosting nitric oxide is crucial for triggering muscle pumps and vascularity. This is why Shatter™ Pumped8 Black Onyx® is loaded with powerful doses of key N.O. boosting ingredients. With its cutting-edge formula, Shatter™ Pumped8 Black Onyx® will have you experiencing extreme prolonged muscle pumps.
A powerful, non-stimulant pre-workout engineered for the strongest muscle pumps and vascularity.
The only 8-hour pump pre-workout
Non-stimulant formula
Featuring exclusive VasoShock-XR™ to boost markers of nitric oxide
DELIVERS EXTREME MUSCLE PUMPS
Muscletech Shatter Pumped8 Black Onyx is the first-ever pre-workout to feature the key ingredient VasoShock-XR™, a highly concentrated one-scoop serving and 4 scientifically backed N.O. boosters. What's more, the clinical dose found in 2 scoops of Shatter™ Pumped8 Black Onyx® was shown to elevate key makers of N.O. in blood plasma and saliva.
Our formula includes 4g of pure L-citrulline – that's more than the amount found in 6g of L-citrulline malate. Plus, it has research-inspired VasoDrive-AP®, a unique compound engineered to support muscle pumps. Furthermore, there's the unique Spectra™ blend of 29 plant-based ingredients, scientifically shown in a separate research study to improve bioavailable N.O. concentration in the blood by 64% compared to placebo.
Amazing Taste
MuscleTech® does not compromise on quality. We use only the best ingredients in full clinical doses. Because of this, Shatter™ Pumped8 Black Onyx® may appear dark and cloudy once mixed.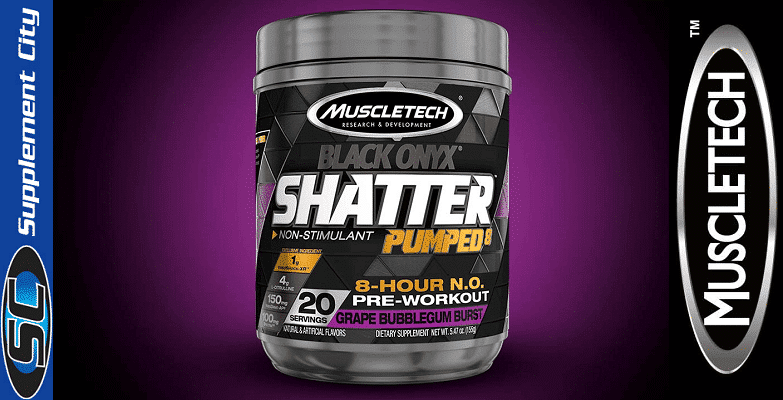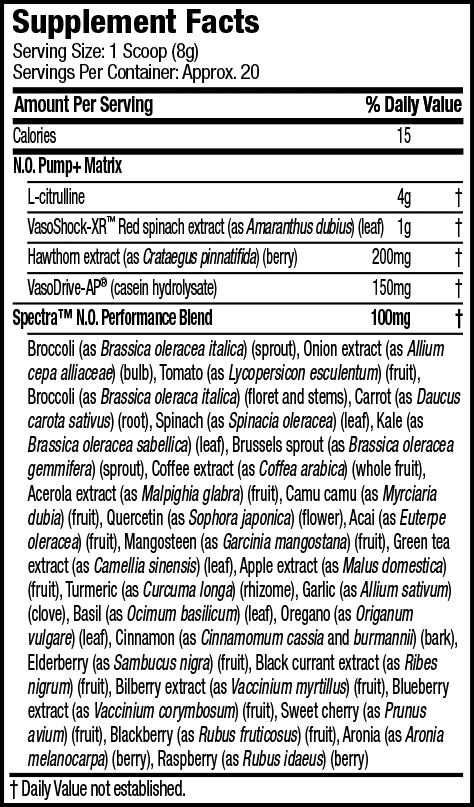 Directions:
Mix 1 servings (1 scoop) with 8 oz. of water. For an explosive pump, mix 2 servings (2 scoops) with 16 oz of water. Take 30 minutes before your workout for ultimate results.
Storage:
Store in a cool dry place out of direct sunlight under 30°C.
Warning:
This product is not a sole source of nutrition and should be used in conjunction with an appropriate physical training or exercise programme. Not suitable for children under 15 years of age or pregnant women. Should only be used under medical or dietetic supervision.
Additional information
| | |
| --- | --- |
| Flavour | Grape Bubblegum Burst, Jujube Cherry Bomb, Blueberry Lemonade |