MYOPURE TRI-CARB BLEND (2kg)
$43.95
Description
Myopure Tri-Carb Blend
Myopure Tri-Carb Blend is a mix of high quality carbohydrates designed for sustained energy.
Nothing beats high quality, natural ingredients. Ignite your fire with Myopure Tri-Carb Blend.
Maltodextrin DE17, a complex carbohydrate
Dextrose Monohydrate D-Glucose, a simple carbohydrate
Palatinose, a low GI carb for prolonged energy
Why use carbohydrates?
Carbs have received some bad press in recent years, because many people assume they are linked to weight gain. But carbohydrates are actually the body's main source of fuel. Adding the right kind of carbohydrates to your pre-workout regime can give you the extra stamina you need to get through your exercise. After a hard workout, carbs can also help to replenish elements important for muscle growth and aid in overall recovery.
While overweight people tend to store carbs as fat, the average fit person can need as many as 6.6 grams of carbohydrate per kilogram of body weight per day. And if you workout every day, carbohydrate supplements are a great source of extra power to help you work harder for longer.
**These statements have not been evaluated by the Therapeutic Goods Administration. This product is not intended to diagnose, treat, cure or prevent any disease. Please consult a qualified professional before undertaking any health, fitness or dietary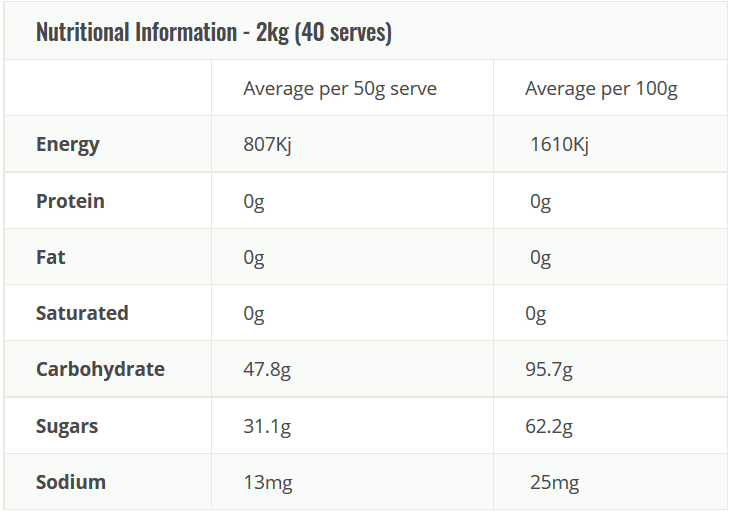 Suggested Use:
Add 1 serve (50g) to 300ml of water. Blend until mixed.
Ingredients:
Palatnose, Maltodextrin & Dextrose. May contain Milk & Wheat Products.
Made in:
Australia from local and imported ingredients.