NATURES BEST COLLAGEN (195g) TYPE 1-2-3
$33.95
Description
Natures Best Collagen
Natures Best Collagen is a premium collagen supplement; combining normal collagen and the peptide form, offering a combination of two of the best protein sources in the world.
Nature's Best is coming in strong with this showing, a powerful and premium muscle and joint support supplement. It doesn't get much better than this, and we're happy to bring this quality supplement to you.
Overview: Everything you need to know
Amazing premium collagen-protein supplement
Offers a blend of collagen and collagen peptides
Supports muscle mass and joint health while reducing fat-gains
Excellent for bone, muscle, and tendon health – especially after intense exercise
Vitamin C for powerful synergies and better collagen synthesis
Perfect for recovery, growth, and long-term health!
Ingredients: What is in it?
There are 3 main ingredients here: collagen, collagen peptides, and vitamin C. These are synergists, and provide a powerful overall health and performance mix that has more benefits than you might imagine!
Collagen is a simple powdered form of the connective tissue protein this supplement is named after. It's like a standard form – similar to getting the benefits of a bone broth or a great protein powder.
Collagen peptides are a powerful form of collagen associated with better joint and bone health, as well as building more muscle than most proteins, and increasing collagen synthesis in the body, providing better joint and tendon support.
Vitamin C regulates collagen synthesis, so you get a healthy booster dose with Nature's Best collagen – the name is clearly right!
Benefits: What is it for?
Collagen has a ton of roles in the body, and this product is going to help you boost them all through simple, regular supplementation:
         May produce better muscle growth
         May regulate of fat mass
         A possible key compound in recovery and strengthening of tendons, ligaments, and other connective tissues
         Great for skin health
         May strengthens bones
These are huge, and they add up quickly! The variety of benefits of collagen supplementation are why you're starting to see it pop up in premium protein powders and other supplements.
However, the collagen + peptide + vitamin C formulation maxes out those benefits. It offers a huge dose of collagen with the proven benefits of vitamin C, which actually boosts the synthesis and recruitment of collagen in the body!
This is an amazing 3-pronged method for possibly maximising your muscle and joint recovery, strengthening all the tissues in your musculoskeletal system, and helping you look and feel your best.
**These statements have not been evaluated by the Therapeutic Goods Administration. This product is not intended to diagnose, treat, cure or prevent any disease. Please consult a qualified professional before undertaking any health, fitness or dietary program.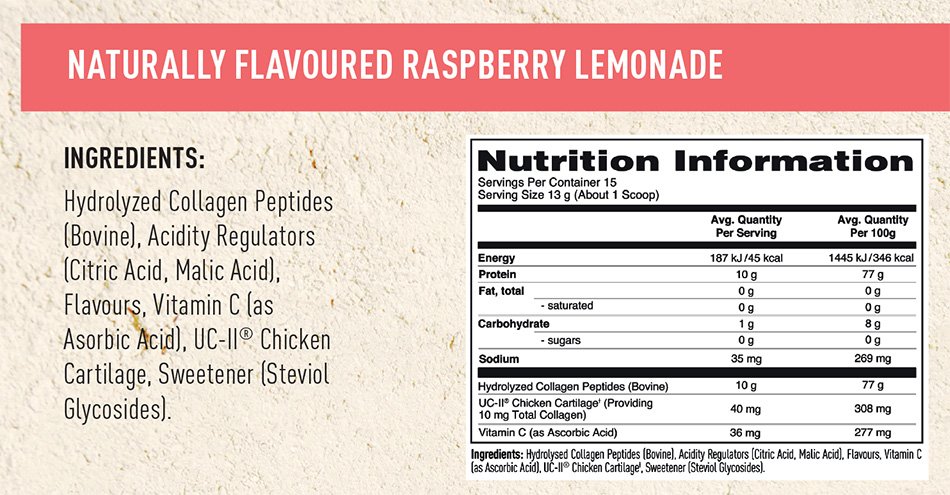 Directions:
Simply add 1 scoop of Nature's Best Collagen to a glass of water (240-360mL) and mix vigorously with a spoon
Additional information
| | |
| --- | --- |
| Flavour | Naturally Flavoured Mango Lime, Naturally Flavoured Raspberry Lemonade |