NDS ALPHA STRIKE (60 Capsules)
$58.95
Description
NDS Alpha Strike
NDS Alpha Strike offers high quality formulated blends designed to support healthy testosterone levels, endurance and vascularity, and prostate health. These blends include:
T-MAX Blend
This featured blend includes an elite combination of ingredients, including: Smilax officinalis Maca Root, Long Jack and Tribulus, and offers support for strength, energy, joint health, and antioxidant activity to combat physical stressors.* It helps oxygenate blood and balances sexhormones, and increases testosterone levels  naturally through the luteinizing hormone, which signals the body to begin producing testosterone. This process helps enhance sexual function, elevates libido, and promotes lean muscle mass and strength from the higher levels of metabolically active testosterone.
This is especially significant because only 2% testosterone is metabolically active.
Vaso-Max and Prostate Support Blends
These complimentary blends include ingredients aimed specifically to enhance blood flow and support men's overall health.* By aiding and increasing blood circulation, promoting optimal prostate health, sexual health, and helping to detoxify the liver cells.
Alpha Strike® offers an extensive formulation making it your ultimate choice for male enhancement and performance!
**These statements have not been evaluated by the Therapeutic Goods Administration. This product is not intended to diagnose, treat, cure or prevent any disease. Please consult a qualified professional before undertaking any health, fitness or dietary program.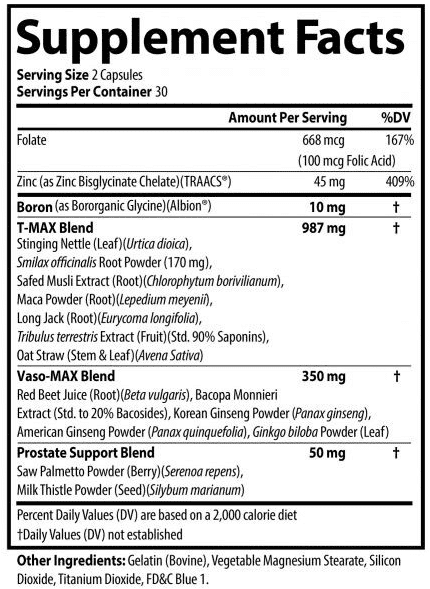 Directions:
For Male Performance: Take 1 capsule in the morning and 1 capsule in the afternoon 30 minutes prior to workout.
For Sexual Performance: Take 1-2 capsules 30-45 minutes before intimacy. No more than 1 serving (2 capsules) per day.