NDS NUTRITION CARDIO CUTS (244g)
$49.95
Description
NDS Nutrition Cardio Cuts
NDS Nutrition Cardio Cuts is the trendsetting, first ever pre-cardio/weight loss formula that attacks the pounds and inches while energizing your workouts. With Cardio Cuts it's time to rev up your results! Stop going thru the motions, and get the most out of your workouts. Tear up the gym again, enjoy those laps in the pool, be motivated for your weekly cardio classes, or hit that treadmill. Cardio Cuts is not just another tasteless thermogenic pill you take a few times a day and wait for results… It's a delicious pre-cardio/weight loss drink that will make every step count!
Increase Stamina and Endurance: Includes 1 gram of clinically studied and patented CarnoSyn beta-alanine to maximize your endurance during workouts. Beta-alanine helps to build up your internal carnosine stores, which serves as a buffer to lactic acid build up in the muscle. Cardio Cuts will allow you to run further, train longer, and workout harder by delaying the onset of fatigue. Push beyond your normal threshold!
Definition and Toning: Cardio Cuts offers more than your average pre-workout, because it's also formulated with 500 mg of CLA (Conjugated Linoleic Acid derived from Safflower Oil) and 500 mg of MCTs (Medium Chain Triglycerides) to help attack the stubborn inches, maximize weight loss, and tone the body in all the right places. A thyroid support blend is included to make sure your metabolism stays firing at peak levels.
Energy and Metabolism: Cardio Cuts includes a strong blend of energy-rich ingredients, including TeaCrine, Quercetin (QU995), Ashwagandha (KSM-66), and 100 mg of Raspberry Ketones to fully maximize energy and metabolism levels. This thermogenic-inducing blend also utilizes potent ingredients including 100 mcg of Huperzine A (Toothed Clubmoss) to help provide the focus and mental alertness needed to take your workouts to the next level.
Quicker Recovery: After an aggressive workout, Cardio Cuts has you covered. Packed with Glutamine, BCAAs, and a thorough Rejuvenation Complex, Cardio Cuts supports quicker recovery and repair.
Delicious, pre-cardio/weight loss drink
Contributes to accelerated definition and toning
Provides maximum energy for your cardio workouts
Support greater cardiovascular endurance and overall performance
No creatine and zero sugar to fit any nutrition/exercise plan
**These statements have not been evaluated by the Therapeutic Goods Administration. This product is not intended to diagnose, treat, cure or prevent any disease. Please consult a qualified professional before undertaking any health, fitness or dietary program.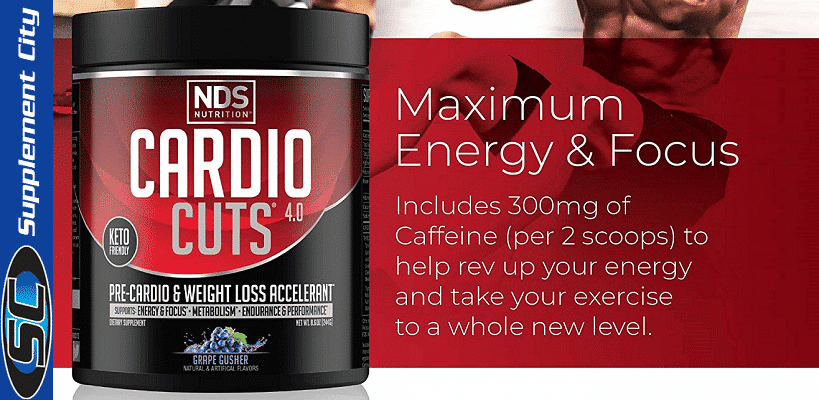 Directions:
For Pre-Cardio/Workout: With 8 -10 fl. oz. of cold water per scoop or 16-20 fl. oz. of cold water per 2 scoops, mix 1–2 scoops 30 minutes before workout.
For Weight Loss Support and Pre-Cardio/Workout: Mix 1 scoop with 8–10 fl. oz. of cold water 30 minutes before workout, then a 2nd scoop 4 hours later.
For Weight Loss Support: Mix 1 scoop with 8–10 fl. oz. of cold water with breakfast, then a 2nd scoop with lunch.
To avoid sleeplessness, do not take within 6 hours of bedtime. Do not take more than 2 scoops in a 24-hour period. Each scoop of Cardio Cuts contains approximately 150 mg of caffeine. Due to the efficacious levels of CLA and MCT oils present in Cardio Cuts, separation may occur after mixing. Mix well and drink shortly thereafter. Consume a minimum 125 fl. oz. of water per day while taking this product. To be used as part of a physical conditioning program.