NOW IGF-1 (30 Lozenges)
$44.95
Description
Now IGF-1
Now IGF-1 stands for Insulin Growth Factor-1.  Now IGF-1 Deer Antler Velvet Extract is a compound produced primarily in the liver through a conversion of HGH (Human Growth Hormone). HGH is secreted by the pituitary gland and is essential for growth and optimum immune system function. Now Foods IGF-1 will be a promising addition to the nutrition regimen of fitness enthusiasts. NOW continues to offer cutting edge nutritional supplements from around the world.
Anti-Aging Formula
New Zealand Deer Antler Velvet Extract
Natural Growth Factor provides Anti-Aging and Immune Support
Tasty Lozenge
Men's Health
What is IGF-1 and what is it used for?
IGF-1 (Insulin-Like Growth Factor) is a hormone that is naturally produced from HGH (Human Growth Hormone), which is the main hormone secreted by the pituitary gland. HGH is usually produced during sleep or strenuous physical activity, and is almost immediately converted into IGF by the liver. Although insulin is involved in IGF-1 production, HGH is the primary precursor.IGF-1 is a powerful growth-promoting metabolite whose production peaks during adolescence to accelerate body growth and development. As we age, the body secretes less HGH, and therefore, less IGF-1. By the time a person reaches 60 years of age, their body may produce only 25% of the HGH levels produced during adolescence. Scientists believe that this reduction in HGH and IGF-1 production as we age is associate with many age-related declines in the human body, such as graying hair, wrinkled skin, loss of sexual desire and function, decreased energy, and increased body fat. IGF-1 is also known as Somatomedin C.
**These statements have not been evaluated by the Therapeutic Goods Administration. This product is not intended to diagnose, treat, cure or prevent any disease. Please consult a qualified professional before undertaking any health, fitness or dietary program.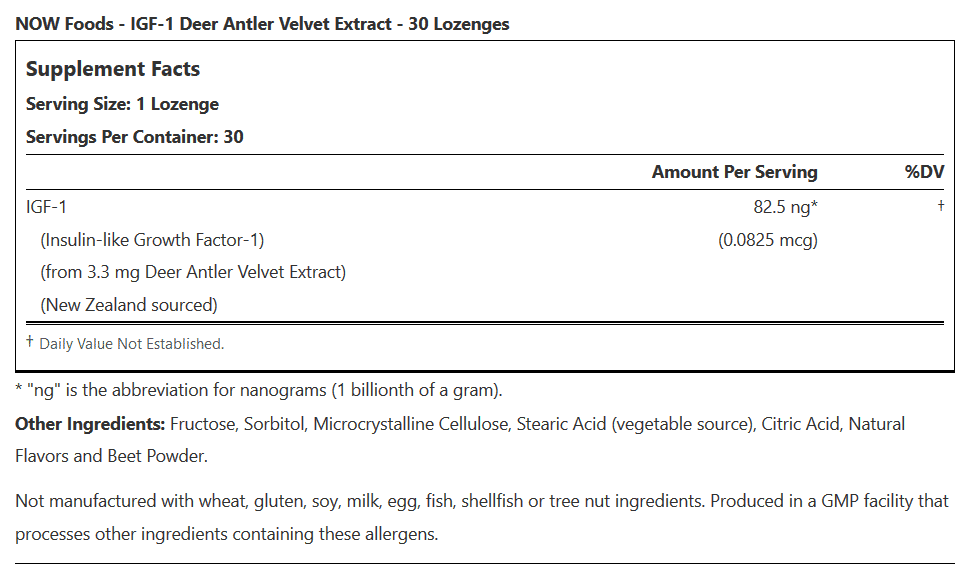 Directions: As a dietary supplement, take 1 lozenge 1 to 2 times daily. Chew lozenge, or allow lozenge to dissolve in mouth completely and swallow.
Caution: For adults only. Consult physician if pregnant/nursing, taking medication, or have a medical condition. Keep out of reach of children.
Warning: Sorbitol is safe for people, but harmful to dogs. Do not feed to pets.