NUTREX NIOX (120 Capsules)
$54.95
Description
Nutrex Niox
Nutrex Niox is an advanced formula for boosting and pumping nitric oxide. With the help of fast-absorbing liquid capsules, Niox may rapidly increases nitric oxide levels in the bloodstream.
When combined with intense training, more blood, nutrients and oxygen are injected into the muscles. This may generate larger and better pump effect. The muscles become fuller and rounder as endurance performance increases.
Many weightlifting experts believe that a great pump effect is the quintessence of the fastest muscle growth. Optimum results may be obtained when Niox is taken daily.
To improve the positive effects of the muscle pump in training, Niox should be consumed 30 minutes before training.
**These statements have not been evaluated by the Therapeutic Goods Administration. This product is not intended to diagnose, treat, cure or prevent any disease. Please consult a qualified professional before undertaking any health, fitness or dietary program.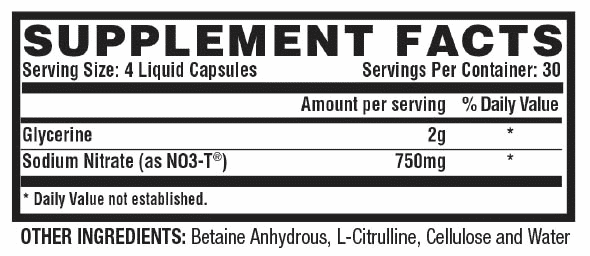 Directions:
Take 4 liquid capsules with 10 oz. of water 30 minutes before breakfast and repeat 30 minutes before dinner. On training days take one of your daily servings 30 minutes before working out. For optimum results use Niox every day. Stay well hydrated. Always take Niox approximately 30 minutes before a meal or workout.