NUTREX OUTLIFT NATURAL (502g)
$69.95
Description
Nutrex Outlift Natural
Nutrex Outlift Natural sets a new standard in pre-workout supplementation: it contains ingredients at full effective (clinical) doses, backed by science and freely disclosed on the label. It's made with 100% natural sweeteners and flavors and is absolutely free of any artificial colors or dyes.
Experience the difference of Nutrex Outlift Natural and start training at your true maximum capacity. Enjoy this refreshing drink, beat personal records and Out Lift yourself.
100% NATURALFLVAOURS AND SWEETENERS
Experience unreal results from ingredients at full effective (clinical)
Doses in this All-In-One Pre-Workout Powerhouse
Made of 100% natural sweeteners and Flavours
Absolutely no artificial colors or dyes
Promotes maximum performance, Power & Strength
Amplifies muscle-pump, reduces fatigue and supports recovery
Increases energy, focus and workout intensity
Increases energy, focus and
Full doses disclosed on label.
No proprietary blend
**These statements have not been evaluated by the Therapeutic Goods Administration. This product is not intended to diagnose, treat, cure or prevent any disease. Please consult a qualified professional before undertaking any health, fitness or dietary program.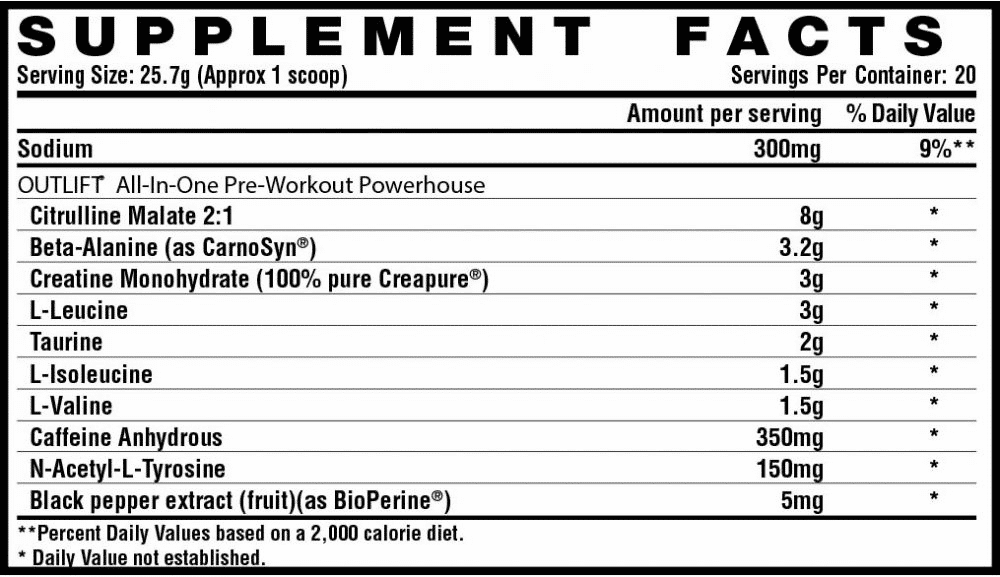 Directions:
Shake container before each use. To experience the full strength of Nutrex Outlift Natural mix 1 scoop into 8-12 oz of cold water and drink 30 minutes prior to working out. Limit use to one serving per day. When mixing with a shaker cup, use cold water. Hold cap and cup securely in hand. Do not shake vigorously as this causes pressurization.
Additional information
| | |
| --- | --- |
| Flavour | Maui Twist, Gummy Bear |