NUTREX VITRIX (80 Liquid Capsules)
$64.95
Description
Nutrex Vitrix
Nutrex Vitrix is an all-natural male performance booster. It supports sexual performance and raises free testosterone levels in men. Normal levels of free testosterone support libido, vitality and sexual activity.
We have secured a small micro batch of the hard to get, extremely potent German tribulus, that was in the original Vitrix, and blended it with the most potent form of Eurycomia Longifolia called LJ100. LJ100 is the only science backed version of Eurycomia with clinical data from human trials showing an increase in sexual performance and satisfaction, coupled with increased energy and feelings of wellbeing. You will be hard pressed to find any herbal ingredient with more human research showing increases in sexual health and performance as well as pro-testosterone effects.
Lastly, Citrulline is believed to be a pro-erectile supplement because it is the more potent precursor for arginine, which itself is the amino acid from which nitric oxide (NO) is produced.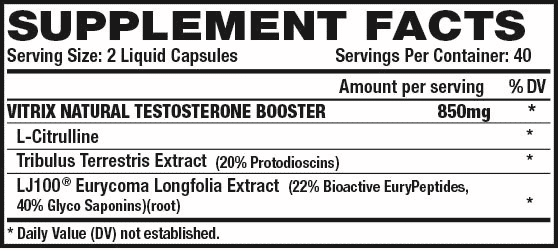 Directions:
Consume one half (1/2) bottle for moderate energy.
For extreme energy in minutes consume one full bottle.
Use or discard any remainder within 48 hours after opening. Never exceed one full bottle in a 24-hour period.