Sale!
ONEST HEALTH COLLAGEN (76.5g)
Description
Onest Health Collagen
Onest Health Collagen results & benefits are vast, as we age, our bodies lose the ability to produce the Collagen needed to have vibrant, plump, smooth, wrinkle-free skin.
In fact, on average studies show that Collagen decreases by 10-13% every decade after the age of 20.
This startling statistic is why as we age our skin wrinkles, our joints become stiffer, our hair becomes brittle, and we don't feel anywhere near as youthful.
Thankfully, advances in research have found supplementing with quality Collagen can help replace some of this lost Collagen, thus helping reverse the negative effects a lack of Collagen can have on our appearance and health.
Marine Collagen has been found to be the most effective and bioavailable source of Collagen, meaning that your body can absorb and use the product instead of it passing through your body without being absorbed.
Which is why we've sourced the highest quality Marine Collagen on the market to ensure you can take full advantage of the fantastic benefits supplementing with Collagen has.
IMPROVES HAIR, SKIN & NAIL HEALTH
As we age, the collagen in our skin naturally decreases and weakens. Specifically, type I Collagen (the type found in Marine Collagen!). Increasing Collagen through supplementation can help the cells in your hair, skin and nails repair and rejuvenate!
IMPROVES DIGESTION
Marine Collagen is easily digestible and contains two amazing amino-acids: Glycine and Glutamine. These amino acids support your digestive tract and the tissue in your gut by reducing inflammation and supporting epithelial cells in your gut!
PROMOTES HEALTHY BONES
Marine Collagen has been shown to increase the calcium and mineral absorption essential for strong and healthy bones. Marine Collagen also helps increase Osteoblast absorption which are the cells that build new bone.
IMPROVES SLEEP QUALITY
Glycine is the most abundant amino acid in Marine Collagen and has been shown to reduce the time it takes to fall asleep, enhance the overall quality of sleep and reduce daytime sleepiness and fatigue.
REDUCES INFLAMMATION 
Collagen plays an important role in joint cartilage health. Supplementing with Marine Collagen has been shown to increase joint collagen levels, reducing inflammation and joint pain.
**These statements have not been evaluated by the Therapeutic Goods Administration. This product is not intended to diagnose, treat, cure or prevent any disease. Please consult a qualified professional before undertaking any health, fitness or dietary program.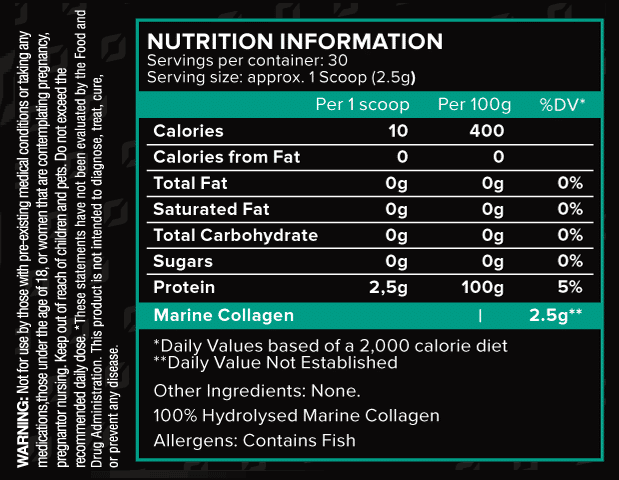 Directions:
Simply mix one scoop of our premium grade Marine Collagen with 10 ounces (300 ml) of water or any beverage of your choice.
It's unflavored so you can add it to your coffee, a smoothie or with any of our other products without changing the taste!
It mixes quickly and never clumps.
Tip: You can take our premium Grade Marine Collagen twice a day for even faster results!