Onest Health Protein (900g) 100% Whey Protein Isolate
$64.95
Description
Onest Health Protein
Onest Health Protein is a simple, but powerful, whey protein isolate to help you up your daily protein. WPI is a form of whey protein that is filtered to ensure higher levels of purity – making it around 90% active protein by weight. This is combined with a few other ingredients for taste – which are there to provide the distinctive white chocolate caramel flavour.
The protein powder is not only high-purity, but low in carbohydrates. With a 10:1 ratio of protein to carbohydrates, and only around 0.6g of sugar per serving, this is a very lean protein when it comes to calorie intake and where those calories come from.
This means more protein and fewer calories, giving you more space in your diet – and more control over what you're eating. This is contrasted to some lower-quality proteins that 'pad' their product with secondary sugars or other filler. Onest are all about purity and it shows in this protein powder.
The purity of the protein isn't the only reason it's a premium whey: it's what makes up those grams of protein: the amino acids.
BCAAs (branched-chain amino acids) are the most important building blocks of proteins – and Onest's whey protein isolate has plenty!
Leucine is the key Amino Acid for telling your body to build more muscle proteins to help you recover from workouts and build muscle. You're going to get 9g from every serving of Onest, providing you with 150% of the scientific dose to make sure you're not missing a single ounce of muscle.
It's not just for gaining mass, however: Isoleucine is another BCAA that supports muscles during a fat-loss diet. It reduces the amount of muscle being broken down to prevent muscle damage, stop your body from eating it up for energy, and keeping muscle lean and strong.
It's also rich in Glutamate and essential amino acids (EAAs) like Lysine, which make it a great addition to any diet (but especially for vegetarians). The blend of BCAAs and EAAs make Onest's whey protein powder a key ally to your muscles whether you're bulking up, shredding down, or chasing better performance!
The rest of the ingredients are healthy choices: cocoa, salt, and sucralose make the white chocolate caramel a distinctive, amazing flavour without extra sugar.
Key Features
High-quality whey protein isolate powder with low carb and fat content
Highly bioavailability
BCAA-rich, offering the most important amino acids for muscle recovery and growth
Rapid absorption for a quick boost of protein post-workout or through the day
**These statements have not been evaluated by the Therapeutic Goods Administration. This product is not intended to diagnose, treat, cure or prevent any disease. Please consult a qualified professional before undertaking any health, fitness or dietary program.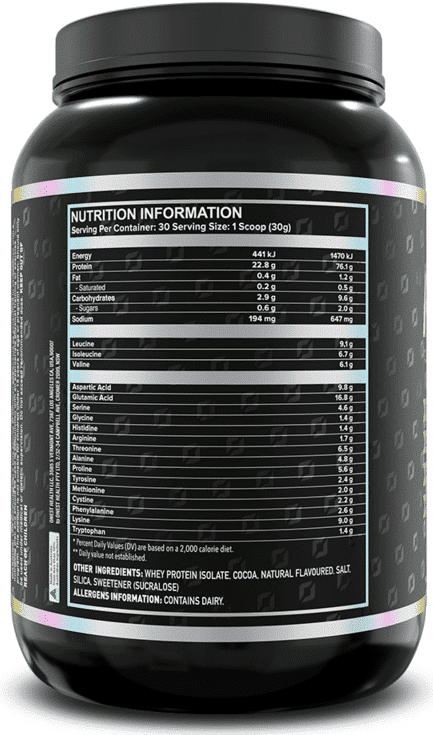 Directions: 
Mix 1 scoop (36g) in 8-12 Fluid Ounces of cold water or milk alternative of choice and mix well. Take once or twice per day depending on dietary needs and exercise. For best results, Take within 2 hours following exercise.
Additional information
| | |
| --- | --- |
| Flavour | White Chocolate Caramel |