OPTIMUM NUTRITION BCAA 5000 POWDER (336gm)
$46.95
Description
Optimum Nutrition BCAA 5000 Powder
5000 Mg Of Branched Chain Amino Acids Per Serving! Optimum Nutrition BCAA 5000 Powder provides a 5000 mg blend of the three Branched Chain Amino Acids (L-Valine, L-Leucine and L-Isoleucine) in every serving. The Branched Chain Amino Acids (BCAA's), so named because of their unique branched chemical structure, are essential in that the body cannot make them from other compounds. In recent times, these amino acids have been investigated for their potential anticatabolic (preventing muscle breakdown) and anabolic (muscle building) effects.
Our 1st Ever Instantized Formula
Mixes Easily with a Spoon
Leucine, Isoleucine, & Valine in 2:1:1 Ratio
Unflavored Versatility
Highly Concentrated
Supports Recovery Efforts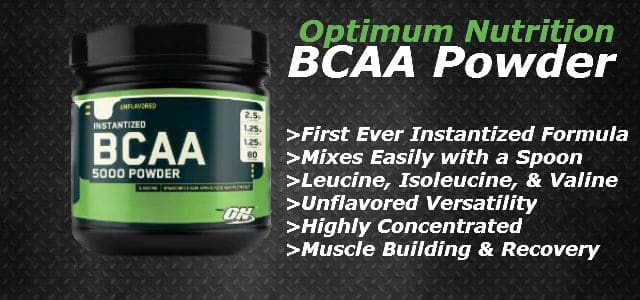 Supplement Facts
Serving Size:1Heaping Teaspoon(5.6g)
Servings Per Container:60
Amount Per Serving
L-Leucine 2.5g *
L-Isoleucine 1.25g *
L-Valine 1.25g *
* Daily Value not established
Other Ingredients
Maltodextrin, Lecithin
Allergen Information: Contains Soy (Lecithin) Ingredients.
Directions:
Mix one heaping teaspoon with 6-8 ounces of water or lyour favorite cold beverage for 15 to 20 seconds using a shaker cup or simply with a glass and spoon. Try adding some to your favorite protein supplement, MRP, or weight-gainer. Combine with a sensible diet and regular exercise.
Additional information
| | |
| --- | --- |
| Flavor | Orange, Unflavoured |