Optimum Nutrition Gold Standard 100% Natural Whey (2.27kg)
$109.95
Description
Optimum Nutrition Gold Standard 100% Natural Whey
Whey Protein Isolates are the purest and most expensive form of whey protein that exists. That's why they are the first ingredients you read on the Optimum Nutrition Gold Standard 100% Natural Whey label. By using Whey Protein Isolates as our primary protein source, we're able to pack in 24 grams of the purest protein with a lot less of the fat, lactose, and other stuff that you can do without. What makes this formula even better is the fact that it contains no artificial flavors or sweeteners. There's no question this is the standard by which other whey proteins are measured.
THE NATURALLY FLAVORED OPTION
No Artificial Flavors, Sweeteners, or Colors
Whey Isolates are the Primary Protein Source
Higher Pure Protein Percentage
Provides Whey Protein Microfractions
More than 5 Grams of BCAAs
Over 4 Grams of Glutamine & Glutamic Acid
Instantized to Mix with a Spoon
**These statements have not been evaluated by the Therapeutic Goods Administration. This product is not intended to diagnose, treat, cure or prevent any disease. Please consult a qualified professional before undertaking any health, fitness or dietary program.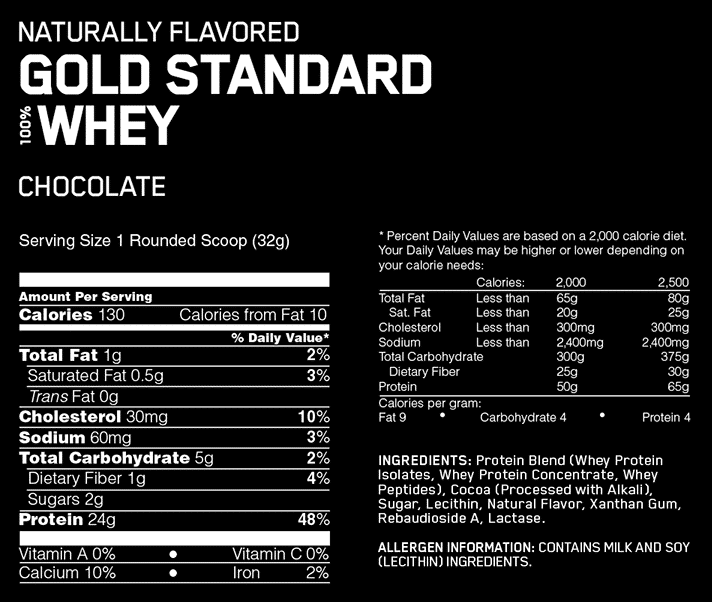 How to take:
Mix 1 scoop of Optimum Nutrition Gold Standard 100% Natural Whey with milk or water and enjoy on the go, post workout or during the day!
Additional information
| | |
| --- | --- |
| Flavour | Chocolate, Vanilla |