Performax Labs OxyMax Extreme (60 Capsules)
$69.95
Description
Performax Labs OxyMax Extreme
Performax Labs OxyMax Extreme is a weight loss support done right. It features a synergistic blend of energy boosters, mood enhancers, and metabolic activators to help increase energy expenditure, enhance motivation, and suppress appetite.*
At the foundation of OxyMax is the king of all psychostimulants — caffeine. It's known far and wide for its ability to enhance energy and energy expenditure, but caffeine also boosts mood and motivation as well as enhances fat mobilization and oxidation during exercise. OxyMax includes a precise mix of caffeine anhydrous and Infinergy dicaffeine malate to provide energy that is both fast-acting and long-lasting.*
Further complementing the energy and mood-enhancing properties of caffeine is the powerful duo of ThinFen and NeuroPEA — a pair of euphoria-inducing agents providing immediate and sustained mood enhancement.*
For added fat burning support, OxyMax includes the potent trifecta of Citrus Aurantium, Cocoabuterol, and Paradoxine. Citrus Aurantium and Cocoabuterol are natural sources of bioactive compounds that stimulate beta-adrenergic receptors in the body, which helps liberate stored fatty acids so that they can be oxidized ("burned") for energy. Paradoxine is the industry-leading form of grains of paradise extract known to help "brown" white fat cells, boosting thermogenesis and energy expenditure.*
We've also included ProGBB, a powerful carnitine precursor, as well as Fucoxanthin, a natural pigment found in seaweed that may help induce fat loss while also inhibiting fat cell differentiation and proliferation.*
At the end of the day, weight loss is about managing calories in versus calories out. And, we all know that dieting has its challenges. OxyMax provides a solution to help dieters suppress hunger, combat cravings, and have the energy and optimism to attack their fat loss goals no matter how aggressive they may be!*
**These statements have not been evaluated by the Therapeutic Goods Administration. This product is not intended to diagnose, treat, cure or prevent any disease. Please consult a qualified professional before undertaking any health, fitness or dietary program.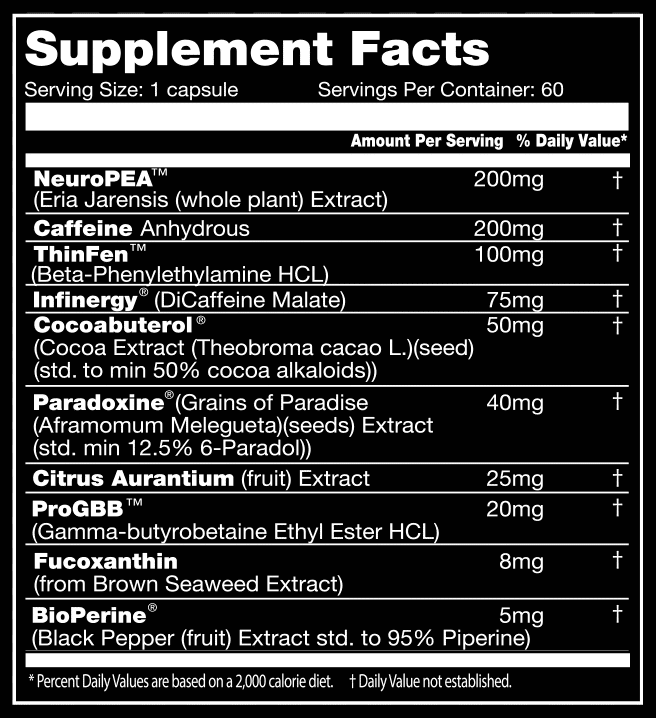 Directions: Consume 1 capsule upon waking on an empty stomach. After assessing tolerance an additional cap can be consumed 6-8 hours later. Sensitive users should consume with food. Do not exceed 3 capsules per day.
Warnings: Keep out of reach of children. Do not use if pregnant or nursing. Consult your doctor prior to use. If you have or are at risk for prostate disease, heart disease or any other general medical conditions, do not exceed recommended dosage. All persons are advised to consult with their doctor or other medical authority before use of this or any supplement with other medicines currently prescribed by your doctor. Caution: This product contains caffeine. Avoid excessive caffeine and intake of other simulants with using this product. Do not use this product in extreme heat conditions. Discontinue use 2 weeks prior surgery. Do not combine this product with alcohol. Do not use product if your health status is unknown. Do not use this product 5 hours prior to bedtime. May not be suitable for persons under the age of 18 years old.