PMD N-TEST 600 ADVANCED (90 Liquid T-Gels)
$59.90
Description
PMD N-Test 600 Advanved
The popular PMD N-Test 600 Advanced is a natural testosterone booster got even stronger and is now available as N-Test 600 Advanced. The advantages of using the right testosterone supplement can make all the difference in giving you that edge toward achieving your health, wellness and fitness goals. N-Test 600 Advanced is an exceptional and versatile testosterone formula including the purest and highest quality ingredients available to help create impactful results. It's a natural free testosterone boosting supplement that helps support a wide array of men's health issues. N-Test 600 Advanced contains the clinically studied Testofen and now includes a powerful new estrogen suppressing formula.
As men age into their 30's and 40's it's common they begin experiencing the onset issues with low T, or to simply feel like they've lost that edge from their youthfulness. Supplementing with the right testosterone support formula is a key next step to help regain that vitality back in their life! So whether your goals are simply to elevate your daily health and well-being, or if you want to take your exercise, fitness and training results to the next level, or if you're looking to spice things up in the bedroom and boost your libido even, N-Test 600 Advanced is what you're going to need to get the job done!
Boost Free Testosterone:

N-Test 600 Advanced is a strong natural testosterone booster fully loaded with 600 mg of Testofen, the clinically studied amount that has shown to support healthy amounts of free testosterone. This is especially significant because only 2% of testosterone is unbound, or bioavailable and "free" to enter cells and exert its biological actions of binding to androgen receptors. Because N-Test 600 Advanced offers testosterone support naturally versus synthetically, it provides all the positive men's health and muscle-building results without the negative androgenic and estrogen-related side effects.
Promotes Lean Muscle Mass & Strength: Includes 10 mg of elemental Boron, 350 mg of Tribulus Terrestris, and is reinforced with 150 mg of Smilax Officinalis and 100 mg of Black Maca Root Powder. This superior formulation helps to build up healthy testosterone levels and synergistically support increases in strength, size, lean muscle mass and hardness. N-Test 600 Advanced is an ideal choice to combine with strength training or exercise to help you begin you're your path toward optimizing your daily health, living an active lifestyle, and reaching your fitness goals.
Suppress Estrogen:

N-Test 600 Advanced is loaded with 100 mg of Diindolymethane (DIM) to support estrogen metabolism. With DIM causing more testosterone to be freed, the results can help support a stronger capacity to build muscle from workouts, a higher sex drive, better moods and improved health. Boron is an essential trace mineral that naturally occurs in certain nuts, fruits, and vegetables, and is known to help decrease and regulate estrogen. As a result of reducing estrogen levels, testosterone levels remain high and become more available to help support desired goals.
Promotes Sexual Health: Sourced from the Andes Mountains in Peru, Black Maca is loaded with amino acids, minerals, vitamins and antioxidants. With such a strong nutritional profile it's very deserving of its status as a powerful 'superfood'. Black Maca has a wide range of supportive health benefits, notably its long-standing tradition of helping to enhance energy, build up stamina, and improve athletic performance. And its benefits have also been linked toward helping with libido and arousing sexual desire.
Strong Bio-Availability

: Delivered via liquid gels, N-Test 600 Advanced features BioPerine for advanced uptake and increased absorption of the ingredients necessary to achieve results. It enhances the formula's overall capability of being absorbed and utilized by the body toward producing stronger results.
**These statements have not been evaluated by the Therapeutic Goods Administration. This product is not intended to diagnose, treat, cure or prevent any disease. Please consult a qualified professional before undertaking any health, fitness or dietary program.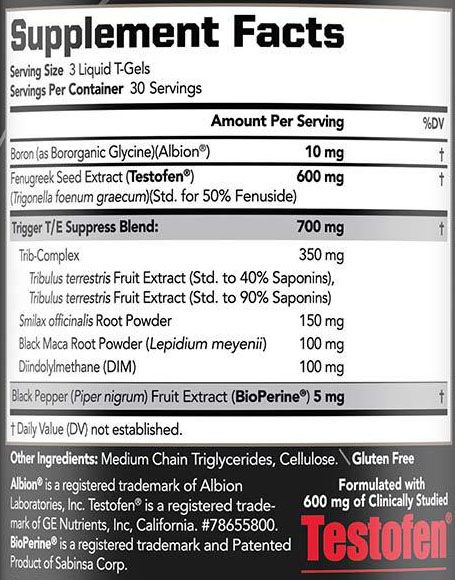 Suggested Usage:
Take 3 liquid T-gels daily.
On workout days take 1 liquid T-gel 30 minutes before breakfast, and 2 liquid T-gels 30 minutes before workout.
On non-workout days take 1 liquid T-gel 20 minutes before each meal.