Sale!
POST CHRISTMAS SHRED STACK
$219.85
Description
Post Christmas Shred Stack
Get shredded in 2020 with our Post Christmas Shred Stack
Performax Labs OxyMax
Performax Labs OxyMax the all-in-one thermogenic powerhouse. This precision formula of clinically researched ingredients at efficacious doses combines the best adrenaline boosters, metabolism enhancers, and appetite suppressors for all-day clean energy with minimal hunger or cravings.
Thermogenic Fat Burner
Long lasting clean energy
All day appetite suppression
Fat loss is important for a variety of health and performance outcomes, but that doesn't mean it's easy. Sometimes diet and exercise are not enough, and supplements can play an important supporting role. However, the right formula is necessary to address the various aspects of dietary support to fuel fat loss. Metabolic rate must be increased so more calories are burned, fatty acids need to be liberated from storage to be available for oxidation, and appetite must be suppressed to enable dietary compliance. For these reasons, Performax Labs' is excited to present Performax Labs OxyMax TM.
B-phenylethylamine HCl – A powerful trace amine that activates adrenaline and noradrenaline to increase metabolic rate, leading to fat loss.
Paradoxine Grains of Paradise – A culinary spice that activates brown adipose tissue, which burns fat through heat production.
Nelumbo Nucifera (std. to Higenamine) – the sacred lotus plant stimulates fat loss in many ways, increasing fat burning while decreasing appetite.
Coleus Forskohlii (Root) Extract – A well-known Ayurvedic medicinal that burns fat and increases muscle.
Fucoxanthin – A molecule from brown seaweed that is stored in fat tissue and acts to limit fat cell growth.
By combining caffeine with trace amines from Eria jarensis and B-phenylethylamine HCl, you will experience a clean energy boost that increases your metabolic rate in a natural and sustained way to keep fat burning efficiently all day. Supporting ingredients like Nelumbo Nucifera ensure that appetite stays low while fatty acid availability is high so that the right fuels get burned. Give your regimen the support that it needs with a supplement that addresses all aspects of fat loss: Performax Labs OxyMax.
Science
Caffeine Anhydrous
Caffeine is the most commonly used stimulant in the world. Its effectiveness doesn't stop at adrenaline and focus – it increases calorie burning and fat burning, while also improving power output, aerobic, and anaerobic exercise. More calories burned means more weight lost.
Astrup et al. (1990) demonstrated that caffeine can increase metabolic rate (calorie burn) by 32.4 kcal/hr, and increased fat burning.
In trained athletes, Schneiker et al. (2006) observed that caffeine induced an increase in peak power of 7% and an increase in total work of 8.5%.
Glaister et al. (2012) found that caffeine improved sprinting time by 1.4% during a multiple sprint running test.
B-phenylethylamine HCl
B-phenylethylamine is a trace amine that affects multiple neurotransmitters to improve energy, focus and mood, including catecholamines such as adrenaline and noradrenaline. These arousal hormones will cause increases in caloric expenditure, leading to weight loss.
Borowsky et al. (2001) showed that trace amine receptors can be found in specific brain areas where B-phenylethylamine has demonstrated catecholaminergic activity.
A meta-analysis (Stohs et al., 2012) reports multiple studies that indicate that trace amines can increase metabolic rate, fat burning, and energy expenditure.
Paterson (1993) observed that phenylethylamine activated noradrenaline receptors in a sympathomimetic fashion, independent of noradrenaline.
Hordeum Vulgare
Hordeum vulgare is a naturally-occurring source of hordenine, an adrenergic-like compound that improves energy and focus. Through its action as a noradrenaline reuptake inhibitor, it enhances the bioavailability, action, and long-lasting effect of noradrenaline, an arousal hormone that can lead to caloric expenditure and weight loss.
Barwell et al. (1989) observed the effects of hordenine on noradrenaline and its reuptake, suggesting that it would be effective when combined with other enhancers of noradrenaline release.
Rossato (2011) investigates how the activity of supplements on adrenergic receptors can elicit thermogenic (calorie burning) effects via stimulation of noradrenaline.
Paradoxine Grains of Paradise
Grains of paradise (Afromamum melegueta) is a commonly used spice in certain parts of the world. It shares some chemical similarities to Ginger, and its main active constituent, 6-paradol, has demonstrated weight loss benefits via increased caloric expenditure.
Sugita et al. (2013) observed that supplementation with grains of paradise increased caloric burn through activation of brown adipose tissue, a type of fat tissue that encourages fat burning through heat production.
Nelumbo Nucifera (std. to Higenamine)
Also known as sacred lotus, this plant can benefit weight loss in a number of ways, such as reduced fat accumulation in cells and reduced appetite. Its main constituent, Higenamine, is a known Beta-adrenergic agonist, similar to ephedrine.
Siegner et al. (2010) observed potent lipolytic activity with lotus administration, which leads to less fat in tissues and more available for burning.
Du et al. (2010) showed that lotus leaf extract leads to appetite reductions of 20-29%.
Higenamine is demonstrated to be an effective agonist of beta-adrenergic receptors in a range of tissues, a mechanism similar to other fat burners ephedrine and synephrine.
Coleus Forskohlii (Root) Extract
An important botanical in Ayurvedic medicine, Coleus forskohlii is known for its fat-burning effects, as well as improving overall body composition.
In a study of 30 men, Godard et al. (2005) observed that lean mass and bone mass increased while fat mass decreased after Coleus foskohlii supplementation.
Jagtap et al. (2011) showed that coleus can improve body mass index (BMI) while increasing high-density lipoprotein – the good cholesterol.
Fucoxanthin
A pigment found in brown seaweed, fucoxanthin is a fat-soluble compound that is stored in adipose tissue and inhibits fat cell growth and differentiation.
Sixteen weeks of supplementation with fucoxanthin resulted in body weight loss of 12.1 pounds in the treatment group, along with increased metabolic rate and lower fat in the blood (Abidov, 2009).
Black Pepper Extract
Piperine inhibits cytochrome P450 enzymes, which play essential roles in the elimination of many compounds. Therefore, piperine can increase the time that certain compounds stay in the bloodstream, thereby improving their effectiveness.
Piperine has demonstrated increased bioavailability of bioactive compounds of up to 2000%.

Evlution Nutrition CLA1000
Evlution Nutrition CLA1000 For Stimulant Free Weight Management, when combined with proper diet and exercise is designed to support:
Utilization of stored body fat as fuel
Stimulant Free Weight Management*
Healthy Metabolic Rate Support*
Weight Management Support*
Lean Muscle Support*
Gluten Free*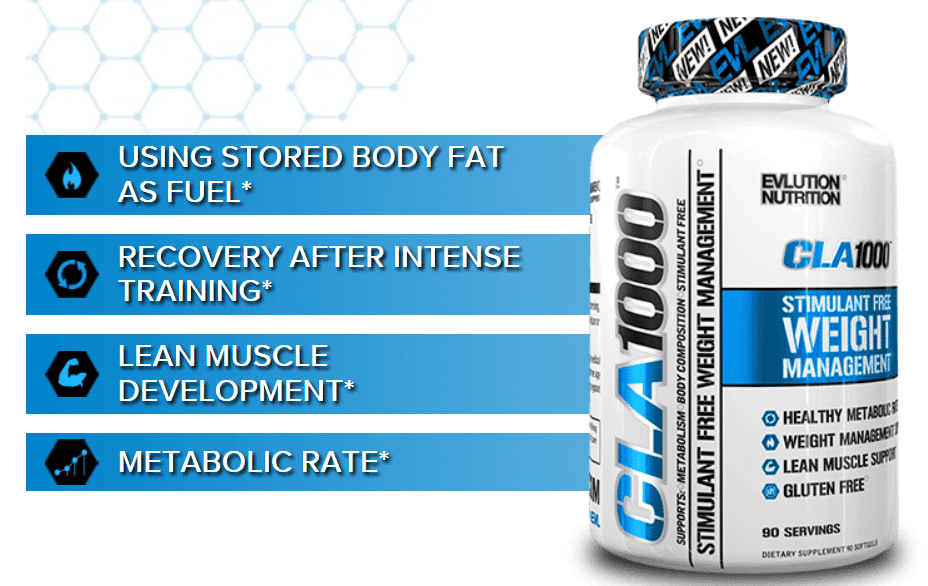 Ultimate Nutrition Iso Sensation 93
Ultimate Nutrition Iso Sensation 93 containing 100% IsoChill® Whey Protein Isolate. IsoChill® is a functional whey protein isolate, processed by a novel ultra-low temperature micro-filtration process. Ultimate Nutrition Iso Sensation 93 contains a full balance of undenatured bioactive whey proteins, including immunoglobulin (IgG), lactoferrin (Lf), and glycomacropeptide (GMP). It is derived from sweet whey, membrane-filtered, and spray-dried by indirect heat, to ensure the highest product quality.
This unique formula is further enhanced with colostrum. Colostrum has long been considered nature's first food. Colostrum exerts important biological activities when given to adults. As our bodies age, we produce less of the immune factors needed to maintain optimal health. Supplemental colostrum can help replenish these stores.
ISO Sensation 93 also includes a glutamine complex. In times of stress (weight training), certain parts of the body demand so much glutamine that the body can't manufacture enough. In these instances, glutamine supplementation can make a world of difference. Intense training causes muscle cell glutamine levels to decrease, allowing for muscle breakdown. Supplementation with L-glutamine causes an anti-catabolic effect by keeping these levels elevated, thus preserving muscle mass and improving nitrogen balance. We've included the most stable and readily-absorbed forms of L-glutamine in our complex. Being easily-absorbed and bioavailable, peptide-bonded glutamine, N-acetyl L-glutamine and Glutapure® enter muscle cells fast, break down to free glutamine, and perform essential metabolic functions.
Optimizing insulin metabolism can support the muscle-building process. Our SI complex includes alpha-lipoic acid, d-pinitol and 4-hydroxyisoleucine. These ingredients are effective in improving insulin efficiency and sensitivity, and copying insulin's effects on muscle with a separate molecule. A greater uptake of blood sugar by muscles could lead to enhanced glycogen synthesis and ultimately greater lean muscle gains. In the end, they all favor better uptake of creatine, glucose and amino acids, and they enhance muscle recovery and growth without excess sugar consumption.
Finally, our enhanced delivery system includes D complex: a blend of the digestive aids protease and lactase for superior digestibility, ensuring maximum absorption and utilization of the nutrients in this formula. These enzymes contribute to the health of the digestive tract and can increase the utilization of whey protein. Try a gourmet-flavored Iso-Sensation® 93 today and you'll be hooked. You'll never go back to regular whey protein isolate again.

Performax Labs OxyMax
Serving Size: 1 Capsules
Servings Per Container: 60
Caffeine Anhydrous 250mgamine)
N,N-Dimethylphenethylamine HCL 150mg
B-Phenylethylamine HCL 125mg
Hordeum Vulgare (std. to Hordenine) 50mg
Paradoxine, Grains of Paradise (Afrmomum Melegeuta) Extract (std. min.12.5% 6-Paradol)(seeds) 40mg
Nelumbo Nucifera (std.to Higenamine) 25mg
Coleous Forskoli (Rot) Extract(std. min.95%Forskolin) 25mg
Fucoxanthin (as 50% Black Seaweed Extract) 8mg
Black Pepper Extract (std. min 95% Piperine) (Fruit) 5mg
Thermopsis Lanceolata Extract 2mg
Other Ingredients: Gelatin, Silicon Dioxide, Magnesium Sterate.
FAQs
Q: How do I take Performax Labs' OxyMax?
A: Take one serving (one capsule) daily in the morning.
Q: What other Performax Labs' products can I stack with OxyMax?
A: Check out our Cut stack which combines OxyMax with SlinMax, HyperMax, and VasoMax for optimized hormonal regulation and performance in the gym.
Q: Are trace amines safe?
A: Though chemically similar to some dangerous drugs, the trace amines used in this formula – Eria jarensis and B-phenylethylamine HCl – are very safe. Due to their specific chemical structures, these compounds act similarly to other neurotransmitter activators, but without the side effects or dangers.
Q: When is the best time to take Performax Labs' OxyMax?
A: In the morning is best to set metabolism for the day and so htat the stimulants don't disrupt sleep patterns. Preferably take OxyMax on an empty stomach, but utilize appropriately within the confines of your diet.
Evlution Nutrition CLA1000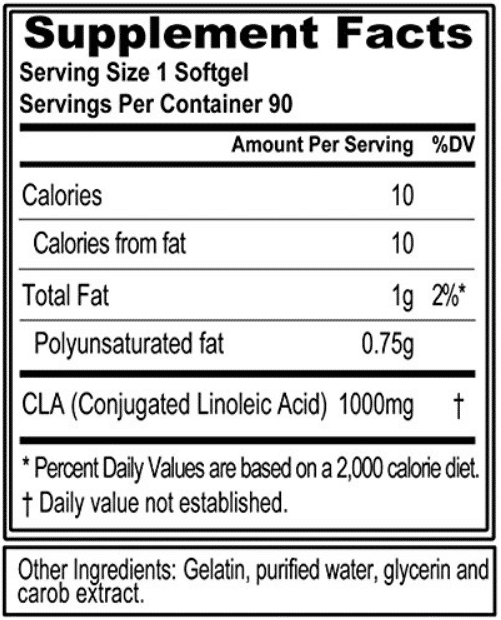 Directions:
Softgel: As a dietary supplement, consume 1 softgel with morning, noon, and evening meals or use as directed by a physician or licensed nutritionist.
Powder: As a dietary supplement, mix 1 scoop with water, juice, protein, or your recovery drink of choice. For best use, take with morning, noon, and evening meals or use as directed by a physician or licensed nutritionalist.
Warnings: Not for use by those with pre-existing medical conditions or taking any medications, those under the age of 18, or women that are contemplating pregnancy, pregnant or nursing. Keep out of reach of children and pets. † In Accordance with Regular Exercise Regimen and Healthy Diet.
Ultimate Nutrition Iso Sensation 93
Supplement Facts
Serving Size: 1 Scoop (32g)
Servings per Container about: 71
Amount Per Serving
Calories 130
% Daily Value*
Cholesterol 2mg 1%
Sodium 30mg 2%
Carbohydrate 1g <1%
Sugars <1g
Protein 30g 60%
Calcium 16%
* Percent Daily Values based on a 2000 calorie diet
Typical Amino Acid Profile
MG per serving
*Essential Amino Acids
L-Alanine . . . . . . . . . . . . . 1530
L-Arginine . . . . . . . . . . . . . 630
L-Aspartic Acid . . . . . . . . 3150
L-Cystine/Cystein . . . . . . . 720
L-Glutamic Acid . . . . . . . . 5130
L-Glycine . . . . . . . . . . . . . . 480
L-Histidine . . . . . . . . . . . . . 480
L-Isoleucine* . . . . . . . . . . 1860
L-Leucine* . . . . . . . . . . . . 3210
L-Lysine* . . . . . . . . . . . . . 3330
L-Methionine* . . . . . . . . . . 660
L-Phenylalanine* . . . . . . . . 840
L-Proline . . . . . . . . . . . . . 1680
L-Serine. . . . . . . . . . . . . . 1320
L-Threonine* . . . . . . . . . . 1950
L-Tryptophan* . . . . . . . . . . 510
L-Tyrosine . . . . . . . . . . . . . 840
L-Valine* . . . . . . . . . . . . . 1680
Total . . . . . . . . . . . . . . . 30000
DIRECTIONS: Mix 1 scoop in 6 ounces (177 ml) of cold water or non-fat milk. Consume 1 to 4 servings per day (depending on your protein requirements). For best results, consume 1 serving immediately after you workout.
INGREDIENTS:
IsoChill® (Double Cold-Temperature Processed Cross-Flow Full-Spectrum Premium Microfiltrated Whey Protein Isolate), Colostrum, Glutamine Complex (Glutamine Peptides, Glutapure® Glutamine, N-Acetyl L-Glutamine), SI Complex (Alpha Lipoic Acid, d-Pinitol, 4-Hydroxyisoleucine), D Complex (Protease, Lactase), Lactoferrin, and Soy Lecithin.
Contains:  Milk, Soy and Wheat.
Additional information
| | |
| --- | --- |
| Iso Sensation 93 2.27kg | Banana, Cafe Brazil, Chocolate, Cookies & Cream, Strawberry, Vanikka |