PRO SUPPS INCREDIBULK (5.44kg)
$116.95
Description
Pro Supps Incredibulk
Each serving of Pro Supps Incredibulk is jam-packed with 1330 deliciously-rich calories designed to maximize your tireless efforts in the gym and at the kitchen table.
FACT most gainers in the marketplace today are nothing more than cheap fillers that meet high-calorie label claims. What does that mean to you? It means that your temporary "gains" are nothing more than water and FAT… At ProSupps™, we KNOW the difference between "good" gains and "bad" gains. We have designed all of our products for elite athletes; INCREDIBULK™ is no different. Packed with complex carbohydrates and multi-phased proteins, INCREDIBULK™ is for hard-gainers of all ages and all types of athletes. Whether you are looking to add size before next season, or wanting to add size before your next company picnic, INCREDIBULK™ will insure that your gains are quality, sustainable and REAL!
Key Facts:
Delicious creamy milkshake taste
Dual carbohydrate source for steady absorbton
Made specially for ectomorphs
Loaded with muscle building amino acids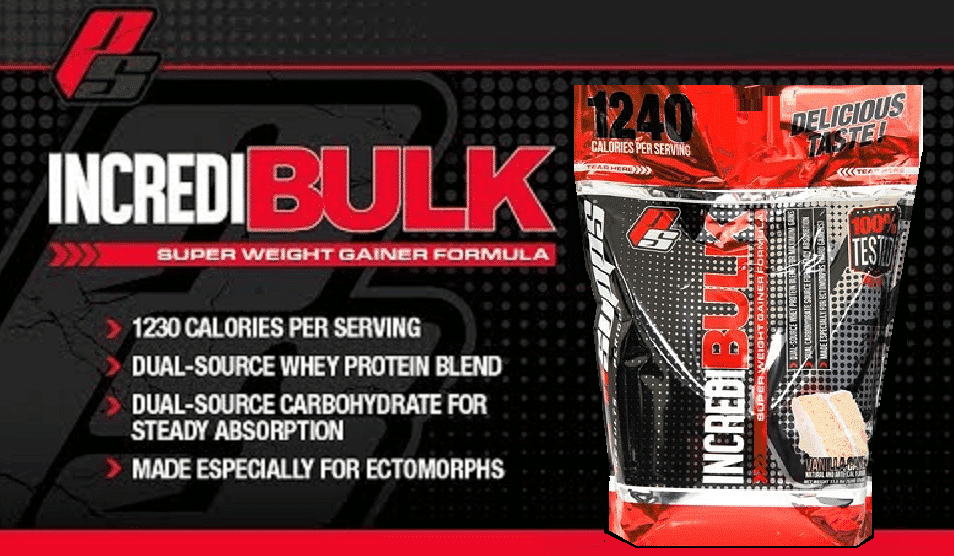 Supplement Facts:
Serving Size: 3 Scoops (337 g)
Servings Per Container: 16
Nutritional Information Per Serving (based on Chocolate flavor):
Energy: 1300 kcal
Protein: 56 g
Fat: 11 g
of which Saturates: 6 g
of which Trans: 0 g
Total Carbohydrate: 248 g
of which Sugars: 33 g
Dietary Fiber: 7 g
Sodium: 627 mg
Amounts Per Serving (based on Chocolate flavor):
Potassium: 858 mg
Cholesterol: 236 mg
Vitamin A: 0%
Vitamin C: 0%
Calcium: 24%
Iron: 39%
Ingredients:
Maltodextrin, Protein Matrix (Whey Cream, Whey Protein Isolate), Amino Acid Complex (L-Glycine, L-Leucine, L-Isoleucine, L-Valine, L-Glutamine), Fructose, Cocoa, Natural & Artificial Flavour, Soluble Corn Fibre, Corn Starch, Sunflower Oil, Sodium Chloride, Corn Syrup Solids, Guar Gum, Xanthan Gum, Sucralose, Acesulfame K, Creatine Monohydrate, SodiumCaseinate, Monoglycerides, Diglycerides, Dipotassium Phosphate, Tricalcium Phosphate, Soy Lecithin, Tocopherols
Recommended Use:
SPOON STIRRED: Just add three heaping scoops of Incredibulk to a glass filled with 320ml of water, nonfat milk or your favorite beverage. Then mix it up with a spoon. Stir for about 20 seconds or until powder is completely dissolved.
SHAKER: Just add three heaping scoops of Incredibulk to your shaker cup and then pour in 320ml of your preferred beverage. Cover and shake for 20–30 seconds.
BLENDER: Add three heaping scoops of Incredibulk to a blender filled with 320ml of water, nonfat milk, or your favorite beverage.
Blend for 30–40 seconds.
Then add a few ice cubes and blend for an additional 30 seconds.
Tip: Mixing three scoops with 6–8 fl oz of nonfat milk instead of water will give you a thicker, creamier shake.
Suitability / Allergen Information:
Contains milk and soy (as soy lecithin). Contains no soy protein. Produced in a facility that processes milk, egg, soy, wheat, tree nuts and peanut.