PRO TAN QUICK BRONZE (58gm)
$28.95
Description
Pro Tan Quick Bronze
Waterproof, Non-Streak Formula With Rich Moisturizers, That Looks Great! Get that dark, healthy, rich tan in seconds with Pro Tan Quick Bronze. This waterproof, non-streak formula with rich moisturizers is an extra smooth, easy application that looks great after just one use. This product is designed to be used before pre-judge. No oil needed with this product, as it already contains a soft sheen that looks perfect! Quick Bronze will give you the ultimate dark brown-bronze color combined with the perfect glowing sheen for bodybuilding competitions.
Helpful Tips
* Use over our Pro Tan® Overnight Competition Color
* Apply just prior to going out on stage for best look
* Use light pressure to rub in product for darker color
* Do not use an oil with this product, already contains sheen
* Wipe off after use with a paper towel or cotton cloth
Product Highlights
* Delivers a deep dark tan in seconds.
* Can be used in conjunction with Pro Tan® Overnight Competition
Color * Soft sheen that the judges prefer
* Designed to be used just before pre-judge the day of show
* Wipes off with a towel after use
* Contains rich moisturizers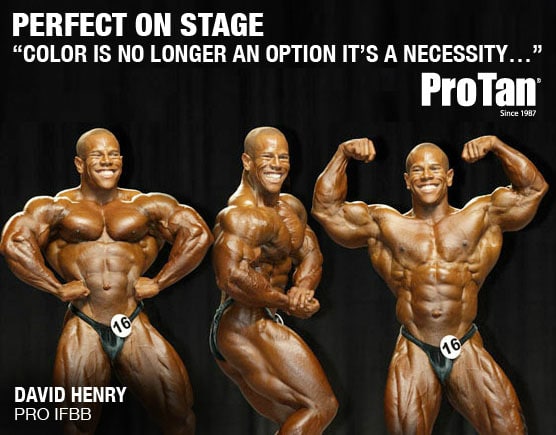 Supplement Facts
Serving Size: 1 Application
Contains:
Petrolatum, Lanolin, Methyl Nicotinate, Capsicum, Fragrance, Tocopheryl Acetate (Vitamin E), Methylparaben, (And) Propylparaben, FD&C Red No. 40, FD&C Blue No. 1, FD&C Yellow No. 6, FD&C Yellow No. 5.
Directions For Pro Tan Quick Bronze: Use latex gloves. Squeeze a small amount into palms. Massage a thin layer over entire body just prior to competition. Be sure not to get any on posing suit. Color will not dry so be sure not to pure on clothing or rub it off. Wipe off after each use with towel. For deepest result apply directly over ProTan Overnight Competition Color.
Warnings: For external use only. Avoid contact with eyes. Discontinue use if irritation occurs.