Red Dragon Nutritionals Creatine Monohydrate (375g)
$65.95
Description
Red Dragon Nutritionals Creatine Monohydrate
Pump up your training stamina and performance with Red Dragon Nutritionals Creatine Monohydrate. This creatine is completely pharmaceutical grade and 100% micronised creatine monohydrate, is non-GMO and has zero fillers. When you're looking for a tried and tested way to support strength, energy, recovery and overall performance, look no further than Creatine by Red Dragon Nutritionals.
100% Pharmaceutical
Reduce Muscle Soreness & Fatigue
Strengthen the Immune System
Banned Substance &

HPLC

Tested,

GMO

Free
**These statements have not been evaluated by the Therapeutic Goods Administration. This product is not intended to diagnose, treat, cure or prevent any disease. Please consult a qualified professional before undertaking any health, fitness or dietary program.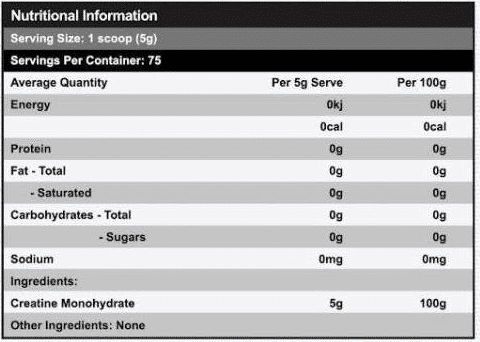 Directions:
Consume 20-25 g of Creatine Monohydrate for 4-5 days to help promote muscle saturation. Maintain Creatine levels with 5-7 g per day, thereafter. For best results, mix 1 scoop of creatine powder into 8 oz. of cold water or your favorite sugary, non-acidic and non-caffeinated beverage.
Keep out of the reach of children.