REDCON1 BOOM STICK (270 Capsules)
$79.95
Description
Redcon1 Boom Stick
Redcon1 Boom Stick forces our own body to increase its ability to produce testosterone and works ideally for those individuals experiencing low energy and fatigue. By elevating our bodies natural testosterone, we give ourselves an opportunity to feel young again. The energy of your youth was a byproduct of surging hormones that ultimately lead to us excelling at sports, school, and with the opposite sex. The trouble is that nothing good seems to last forever. When men hit the age of 25 testosterone levels start to gradually decline. And by the time you've hit your mid 30's and early 40's, your hormone levels have bottomed out, your energy and sex drive are in the tank, and you can forget about adding new muscle in the gym or getting shredded for vacation. It's just not going to happen for you; that is without testosterone.
Boom Stick will significantly raise those with already diminished testosterone levels, but it will also work great for younger men or guys in their 20's who haven't started to plummet yet. By taking Boom Stick while the juice is still naturally flowing, you are simply putting gasoline on the already raging fire. You can imagine the gains you'll experience if this sounds like you. Rapid strength improvements in the weight room, followed by an immediate desire to want to train and be active. From there, new muscle tissue will be born and long term increases in muscle mass and bone density will change the shape of your body giving it a more muscular shape and tone.
Some Of The Key Ingredients
D-Aspartic Acid 3120mg – Popular natural testosterone boosting ingredient. Stimulates the brain to release LH and increase fertility in men.
Ashwaganda Root Extract 1000mg – Powerful compound to help reduce cortisol and increase male fertility levels.
Tribulus Terristis 750mg – Helps to increase libido (sex drive) and overall sense of well-being.
Fenugreek 600mg – Used for its ability to increase testosterone, Fenugreek also plays a role in regulating blood glucose.
DIM 250mg – Powerful natural anti estrogen compound to increase free testosterone levels and promote a lean, dry look.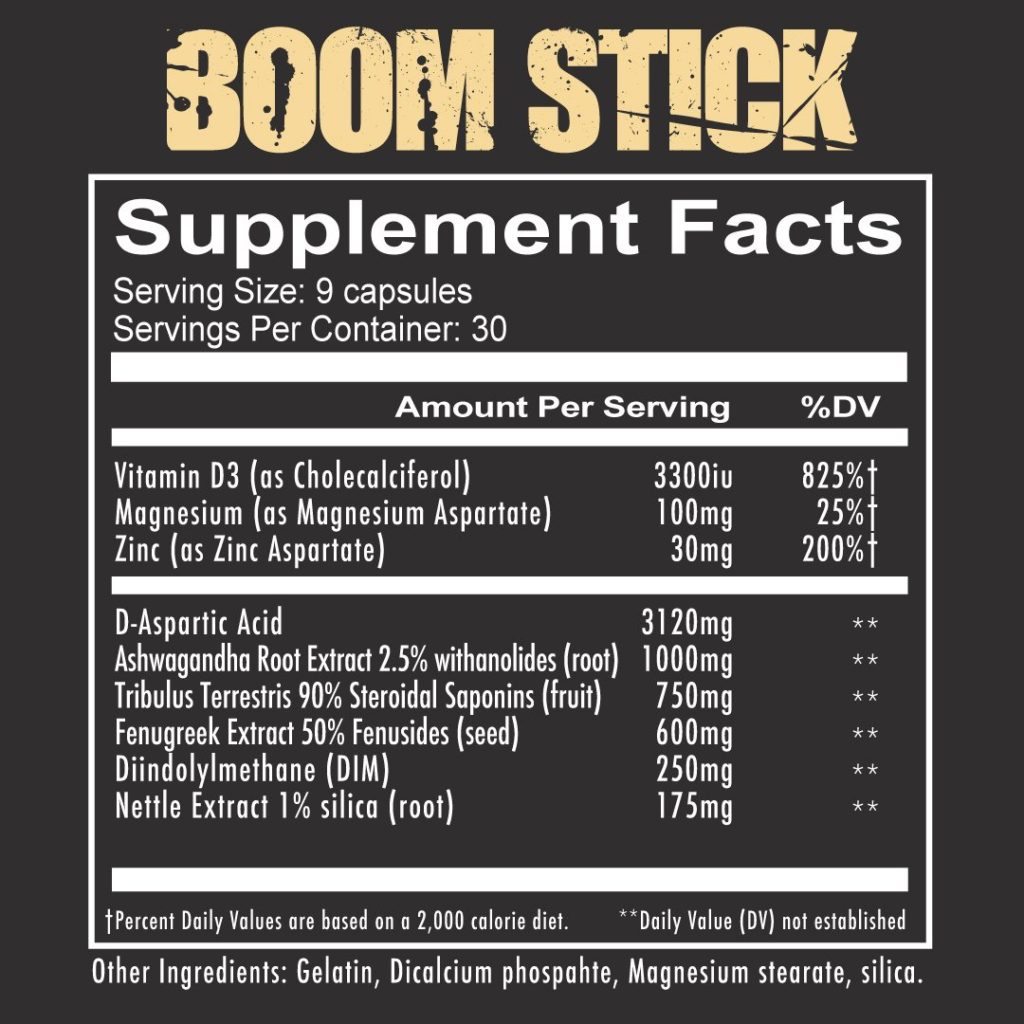 Directions: For best results, take (3) capsules, 3 times daily – Space dosages out equally throughout the day. We recommend taking boom stick with food.
Warning: Not for use by individuals under the age of 18 years. Do not use if you are pregnant or nursing. Individuals who consume caffeine with this product may experience serious adverse health effects. Individuals who are sensitive to the effects of caffeine should consult a licensed healthcare professional before consuming this product.