REDCON1 GRUNT (285g) EAA
$59.95
Description
Redcon1 Grunt
Redcon1 Grunt contains essential amino acids (EAAs) are the 9 amino acids that the body does not make and must get through food or supplementation. All of the EAAs must be present in the body to make muscle protein and promote muscle growth, recovery and repair.
For the athlete or bodybuilder who takes recovery seriously. Grunt® is a potent and effective EAA formula packing 9 amino acids necessary for growing new and preserving existing muscle mass. Do not confuse EAA's with BCAA. Although both are needed by the body and only provided via nutrition or supplementation, EAA's are a complete protein source, whereas BCAA are not. Research indicates that EAA's are best used as part of your pre-workout routine, while BCAA's are most beneficial post workout due to their higher doses.
WHAT'S IN IT?
L-Leucine 3g
Leucine an essential amino acid. Of all the Branched Chain Amino Acids Leucine is the most abundant and most important. Research has shown that Leucine's major role is as a protein synthesis regulator and if you add Leucine to a high protein meal you may increase protein synthesis by up to 40%. L-Leucine can be used in conjunction with meals that are already high in protein to help accelerate the recovery of muscles. Many athletes add extra Leucine to their diet to help reduce the breakdown of muscles during training and to reduce the soreness of muscles after training.
L-Valine 1.5g
Valine promotes optimal nitrogen balance in the body which supports protein synthesis (Protein absorption) and muscle hypertrophy (muscle gain). Valine is also an incredibly efficient source of energy for your muscle tissue and this is why it's considered one of the best workout support supplements to take during exercise.
L-Isoleucine 1.5g
Isolecuine is essential for a number of fundamental processes in the body and may enhance insulin sensitivity in the body thereby increasing the efficacy of essential and non-essential amino acid absorption.
L-Lysine 300mg
Lysine is an essential amino acid therefore it must be obtained from the diet as the body cannot produce its own. It is an essential building block for all protein in the body and performs many useful functions in the body and has proved to be especially useful in treating herpes and cold sores. Lysine also increases the absorption of calcium so it may help to prevent and treat osteoporosis.
L-Threonine 250mg
Threonine is an essential amino acid. Amino acids are the building blocks the body uses to make proteins. The "essential" amino acids are those that cannot be made by the body and must be obtained from the diet. Threonine is changed in the body to a chemical called glycine. Glycine works in the brain to reduce constant and unwanted muscle contractions (spasticity). Threonine also is responsible for producing tooth enamel, collagen, and elastin in the skin, while aiding in fat metabolism in the liver.
L-Phenylalanine 250mg
L-Phenylalanine plays a key role in the production of tyrosine, epinephrine and norepinephrine (important stress response molecules), and the happy hormone dopamine which can help you learn and form memories.L-Phenylalanine is important for building muscle and repairing soft tissue and improves skin pigmentation with UV exposure. Due to its link with signalling brain health, it could be useful for feelings of wellbeing and a healthy mindset.
L-Tryptophan 50mg
L-tryptophan is an essential amino acid that helps the body make proteins and certain brain-signaling chemicals.Your body changes L-tryptophan into a brain chemical called serotonin. Serotonin helps control your mood and sleep.Once L-Tryptophan is consumed it is first converted into 5-hydroxy-tryptophan (5-HTP). 5-HTP is the amino acid the body naturally produces and acts as a 'middle man' in the conversion process of L-Tryptophan being utilised by the body. 5-HTP is a precursor to the neurotransmitter, Serotonin. Serotonin is the key to the majority of the benefits that supplementing with L-Tryptophan provides.
L-Histidine 25mg
L-histidine to produce various enzymes, including gastrin, an enzyme which promotes healthy digestion and helps us actually absorb nutrients and minerals from the food we are so careful about eating. L-histidine also helps our bodies produce of histamine, which is very important for immune system health, heart health and a strong circulatory system. Histidine also helps the body maintain the optimal balance of important minerals, including zinc and iron. It actually binds with zinc and carries zinc to our cells where it is put to good use.
L-Methionine 25mg
L-methionine is an essential sulfur-containing amino acid that is soluble in water. It is a powerful antioxidant, assists in the breakdown of fats, and helps inactivate free radicals. Because it is an essential amino acid, it must be supplied in the diet. Signs of L-Methionine deficiency include poor skin tone, hair loss and impaired elimination of toxins.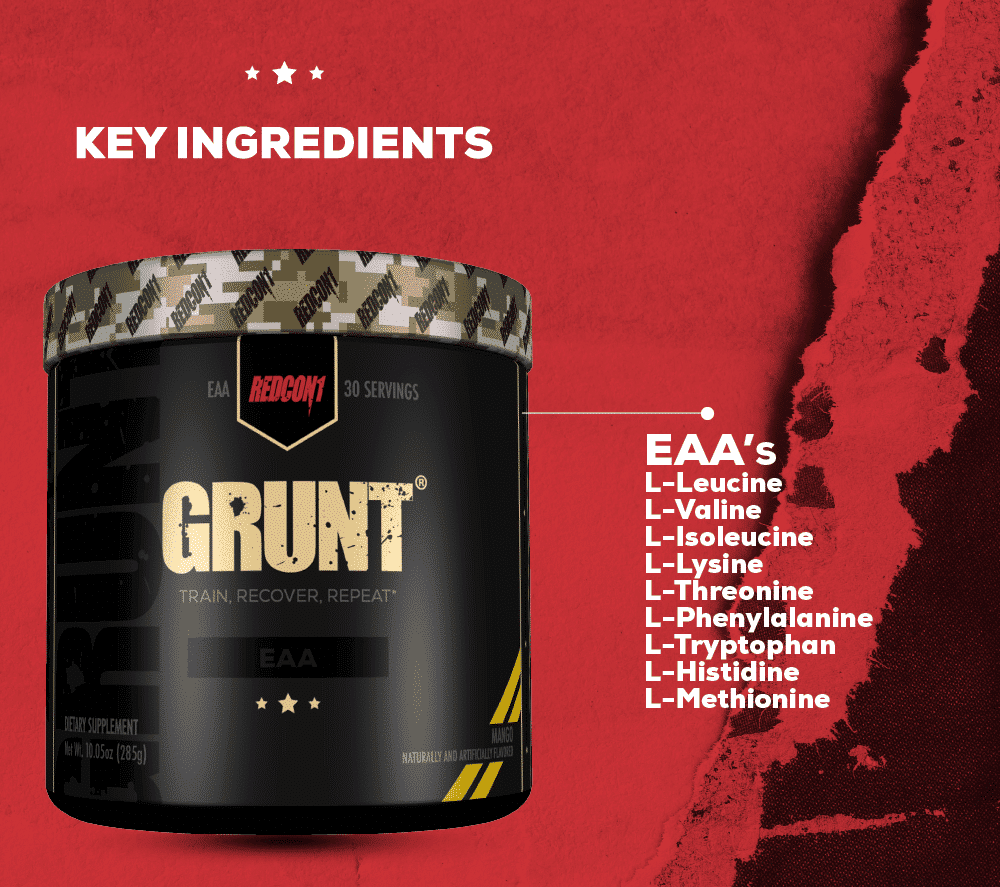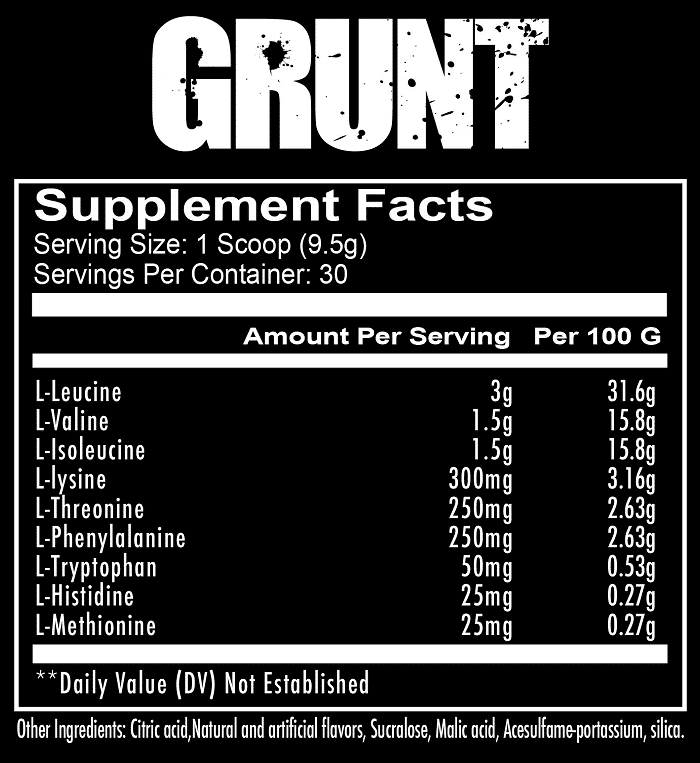 Suggested Use:
To get the most out of Grunt, we suggest at least (1) serving during training and (1) scoop immediately post workout. For optimal flavor, we suggest mixing (1) serving of Grunt with 8-10 oz of water or your favorite beverage.
Additional information
| | |
| --- | --- |
| Flavour | Blood Orange, Pineapple Banana |