REDCON1 MENTAL TRIGGER (60 Capsules)
$69.90
Description
Redcon1 Mental Trigger
Unlock brain focus, attentiveness, and creativity with our highly advanced focus formula, Redcon1 Mental Trigger. The vast majority of supplements on the market address the physical needs we demand, but finally one has come along to address our mental needs. Focus ingredients like the ones we've included in Mental Trigger are cutting edge chemical compounds that people from all walks of life have been capitalizing on and gaining the competitive edge on those who have been going without.
We firmly believe Mental Trigger will be one of the most widely used supplements anywhere in the world. Whether cramming for a big test, preparing for a job interview, or reaching next to impossible deadlines – Mental Trigger – it'll have you ready and where you need to be when it counts the most.
Here's a quick rundown on the key ingredients:
Caffeine Anhydrous 250mg: Improve energy,CNS stimulation and mental focus. This provides a fast acting hit of energy to get you stimulated and ready to work.
Hisperiden 100mg: Most commonly known for its disease fighting abilities this ingredient also helps to preserve brain function. Better memory function and a reduction in cell oxidation means you'll stay sharp for longer.
Teacrine 50mg: This is long lasting sustained release form of caffeine. It will keep you focused and in the zone for longer. It'll also help balance out the hit of caffeine anhydrous so you get a clean energy without the crash.
Macuna Puriens 50mg: Aside from boosting growth hormone levels the real standout benefit of this ingredient is its ability to increase dopamine/sense of well-being. This will have you feeling calm and happy for a focused energy effect.
Alpha GPC 30mg: A potent nootropic ingredient this provides a real feel good increase in brain function by elevating choline levels in the brain.
BioPerine: BioPerine® is the only product sourced out of piperine to obtain a patented status for its ability to increase the bioavailability of nutritional compounds. In general, BioPerine® was found to enhance absorption of nutrients by at least 30%.
Some of the benefits include:
Long lasting clean energy
Increase mental focus
Better recall/memory
No crash
Improved productivity
If you have a job you need to get done,let Mental Trigger switch you on to make it happen, faster.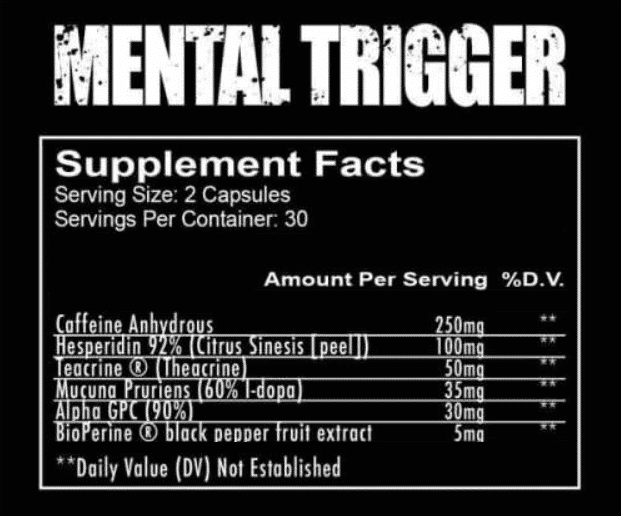 Directions: For best results take 1 serve of Redcon1 Mental Trigger whenever you have a task requiring mental focus and concentration. This does contain caffeine so we'd recommend avoiding this later in the evening to avoid affecting sleep quality.
Note: Start out with half a serve to asses tolerance before increasing your dosage.