REDCON1 SILENCER (120 Tablets) STIMULANT FREE FAT BURNER
$68.95
Description
Redcon1 Silencer
The fight against fat accumulation. Give yourself the competitive edge in the fight against fat loss with Redcon1 Silencer, our latest non-stimulant fat burning formulation scientifically designed for the person not looking to over stimulate during a diet regiment. Unlock your bodies top physical potential via non-thermogenic pathways making your diet phase comfortable and less exhausting on your body. In each serving of Silencer you'll get 200mcg of 3,5 Diiodo-L-Thyronine, or better known as T2. T2 converts to the thyroid hormone T3 once ingested into the body. Bodybuilders and athletes have known about the power of T3 to shed bodyfat for decades. Now you can experience it for yourself.
You'll also be getting Acetyl-L-Carnitine, Conjugated Linoleic Acid, Garcinia Cambogia Extract and many other non-stimulate fat burning supplements packed inside each dose. Whether by blocking the absorption of fat eaten by a person or reducing the amount of glucose production and even lowering cholesterol; All positive benefits of taking Silencer as part of your daily fat loss routine. Silencer can be taken by both men and women and for optimum fat burning effects we recommend stacking Silencer with Double Tap to ensure you are maximizing each pathway for the quickest and most efficient fat melting program.
Key Ingredients
Acetyl L-Carnitine (ALCAR) & L-Carnitine-L-Tartrate (LCLT)
Both ALCAR and LCLT have been added to support the mobilisation and transportation of fatty acids to ensure they are available to be burned as energy. Additionally, ALCAR and LCLT also off benefits for improving cognitive function, enhancing muscle recovery and reducing post-workout muscle soreness if taken around training.
Garcinia Cambogia
While the research on Garcinia Cambogia for fat loss is not well established, studies using this extract have reported significant reductions in appetite after consumption as well as higher dietary adherence in those using the extract when compared to placebo. The active component of Garcinia (HCA), may also help the prevention of blood sugar being converted into fat in the liver and is a fantastic supportive extract for fat loss.
Dandelion Root
Dandelion root is a natural diuretic and has been used for many years in herbal medicine practice for its positive effect on stimulating the release of excess fluid retention.
Conjugated Linoleic Acid (CLA)
CLA is a naturally occurring healthy fat source that has been shown to support fat loss and reduce the risk of muscle loss during a dieting phase.
Alpha Lipoic Acid (ALA)
Alpha lipoic acid is a fatty acid found in the mitochondrial cell of the body and helps reduce reactive oxidant species, which cause systemic inflammation and ageing, as well as control blood sugar levels as a natural insulin mimic.
3,5-Diiodo-L-Thyronine (3,5-T2)
3,5-T2 is more commonly known as T2, which is a thyroid hormone that converts into the most metabolically active thyroid hormone known as T3, which helps control metabolic rate.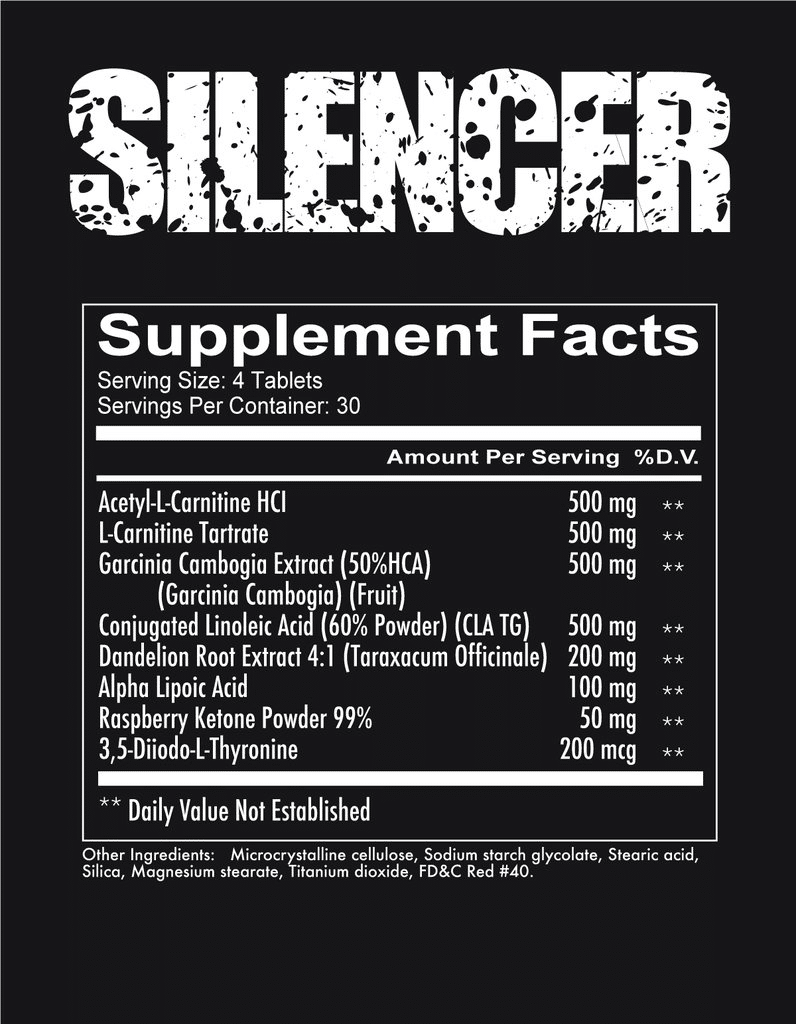 Directions:
For fat loss and metabolic support take 4 capsules once daily. For maximum results take up to 4 capsules twice daily. Do not exceed 8 capsules per day and allow 5 – 6 hours between servings.