REDCON1 TANGO (400g) CREATINE RECOVERY SOLUTION
$64.95
Description
Redcon1 Tango
If you have hit a plateau and need some serious help to increase your strength, lean muscle and overall performance, welcome Redcon1 Tango. This is their own high powered creatine and betaine anydrous supplement. This product was formulated to help the muscle explode with new growth and increase ATP production through the accelerated protein synthesis activation.
Once you take Tango, the first thing you will notice is the amazing taste and then how your body responds to it more than any other creatine supplement you have experienced. And then with Betaine Anhydrous, it helps draw more water into the cells and absorb more creatine, making these two ingredients the perfect 1-2 combo! Lastly, Redcon 1 added L-Ornithine, which helps dilate your blood vessles for extra pumps and swelling.
Benefits & Results
For best results, take it during times of maximum intensity training.
Improve Overall Performance
Increase Strength & Size
Improve Recovery Times
Supports Muscle Growth and Recovery
For Men and Women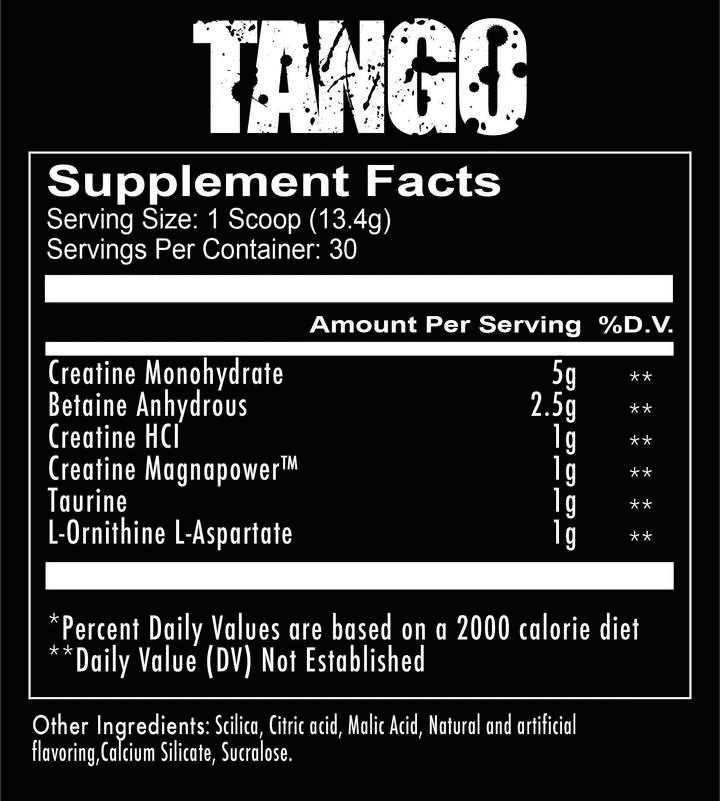 Directions & Dosage:
Redcon 1 recommends that you take 1 serving 15-30 minutes pre-workout on training days and in the morning on non training days. Tango can be taken with or without food.
Stacks: Because this product contains no stimulants, it can be stacked with almost anything from Redcon 1.
Cycle: This product does not need to be cycled.
Additional information
| | |
| --- | --- |
| Flavour | Strawberry Kiwi, Unflavoured |